COLUMBUS, OH (February 14, 2019) — The Columbus Foundation today celebrated the accomplishments of individual community leaders and organizations who, during the past year, have been recognized by their industry peers for their outstanding contributions to their fields. They were honored at the annual National Number Ones event held at the Foundation.
"The accomplishments of this group of organizations and leaders fill us with pride and display our city's extraordinary talent and capacity for greatness. We salute these achievers and thank them for their contributions to the recognition and progress of our community."

DOUGLAS F. KRIDLER, PRESIDENT AND CEO OF THE COLUMBUS FOUNDATION
Dr. Steve Allen of Nationwide Children's Hospital was also presented with the inaugural Growth and Honor Legacy Award, which recognizes exceptional stewardship that has led to the growth and national recognition of valuable local civic organizations. The award was accompanied by a $7,500 grant to the Allen Distinguished Scholar in Pediatric Research fund at Nationwide Children's Hospital.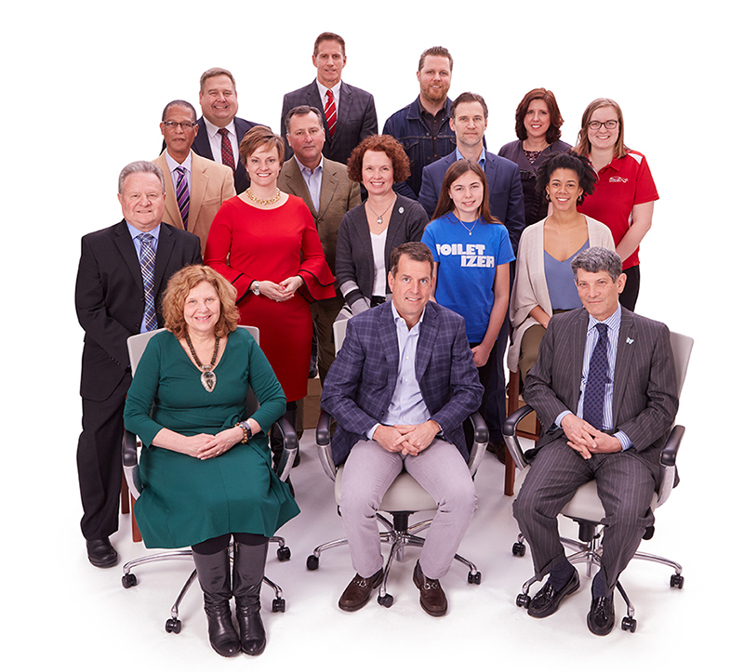 Pictured, seated (l-r): Linda Logan, Columbus Foundation Governing Committee Chairman Matt Walter, Dr. Steve Allen. First row (l-r): Ken Schnacke, Joanna Pinkerton, Christy Farnbauch, Claire Rhodes. Raven Jackson-Stone; Second Row (l-r): Columbus Foundation Governing Committee Member Dwight Smith, Columbus Foundation Governing Committee Member Jeffrey Edwards, Dr. Trevor Petrel, Kerri Loyd; Third Row (l-r): Chuck Gibson, Guy Worley, Ryan Lang, Jennifer Seifert
The National Number Ones include:
Battelle
Trevor Petrel, PhD., Director of Advanced Technology Development
R&D100 award for ThreatSEQ™ webservice
R&D 100
Charitable Pharmacy of Central Ohio
Jennifer Seifert, Executive Director
Community Pharmacy Innovation in Quality Award
Pharmacy Quality Alliance
Columbus
#1 City for College Graduates
Smart Asset
COTA
Joanna Pinkerton, President and CEO
Outstanding Public Transportation System Achievement Award
American Public Transportation Association
Greater Columbus Sports Commission
Linda Logan, Executive Director
Sports Event of the Year
2018 NCAA Women's Final Four
Sports Travel
Middle West Spirits
Ryan Lang, Co-founder
Gold Medal and Best in Category
OYO Double Cask Sherry-Finished Bourbon
American Distilling Institute
National Association of Women Business Owners Columbus
Christy Farnbauch, Executive Director
#1 Chapter in the U.S.
National Association of Women Business Owners
National Veterans Memorial and Museum
Guy V. Worley, President and CEO, Columbus Downtown Development Corporation
First National Veterans Memorial and Museum
U.S. Government
Nationwide Children's Hospital
Steve Allen, M.D., CEO
ABMS Multi-Specialty Portfolio Program Outstanding Achievement in Quality Improvement Award
American Board of Medical Specialties
Ohio State Center for Automotive Research
1st Place, EcoCAR 3 Advanced Vehicle Technology Competition
U.S. Department of Energy
Claire Rhodes, Liberty Elementary School student
Most Visionary Award
National Invention Convention and Entrepreneurship Expo at The Henry Ford Museum of American Innovation
Ken Schnacke, President and General Manager, Columbus Clippers
Executive of the Year
International Baseball League
Worthington Library
Chuck Gibson, Director / CEO
#1 Ranking, 2018 Index of Public Library Service
Library Journal
Also previewed during the program was the Foundation's forthcoming "Benchmarking Central Ohio" report, which examines population vitality, economic strength and prosperity, and overall community wellbeing in the Columbus region. Once released, the report will be available for download at columbusfoundation.org.
---
About The Columbus Foundation
The Columbus Foundation serves more than 2,500 individuals, families, and businesses that have created unique funds and planned gifts to make a difference in the lives of others through the most effective philanthropy possible. The Columbus Foundation is Your Trusted Philanthropic Advisor® and one of the top 10 largest community foundations in the United States.