Gifts of Kindness Fund
A community-focused fund helping central Ohio individuals and families with emergency needs.
Holiday

Kick off this holiday season with a gift from the heart!

Thanks to the generosity of the Wolfe family, all donations made to the Gifts of Kindness Fund will be matched dollar-for-dollar beginning on Giving Tuesday until we reach $1 million.
The Gifts of Kindness Fund provides one-time grants to help lift up individuals and families who experience an unexpected setback.
The Gifts of Kindness Fund was established in September 2014, with a generous gift of $500,000 from that compassionate donor. The goal is not only to provide financial support but to illustrate how acts of kindness throughout our community make a difference—and inspire others to do the same.
Make a contribution to the fund to help others in our community.
 We were inspired to create the Gifts of Kindness Fund for two reasons: to provide meaningful, one-time, life-changing gifts to help lift people up during a setback, and to motivate others to participate in acts of kindness as well.

 

GIFTS OF KINDNESS FOUNDING DONOR
GIFTS OF KINDNESS GRANT EXAMPLES
A client experienced homelessness after being terminated from their job due to COVID-19 and leaving a domestic violence situation in their residence. Gifts of Kindness covered car payments as they continued to drive to work and live in the car while saving for an apartment.
A diabetic client's insulin, syringes, and other necessary medicine were taken during a home invasion. Gifts of Kindness covered one month of rent so that client could afford to purchase replacement medical supplies.
A client's work hours were cut in March 2020, followed by her being furloughed. Due to an extended delay in receiving unemployment assistance, she was at risk of eviction. Gift of Kindness provided two months of rent to help her avoid eviction.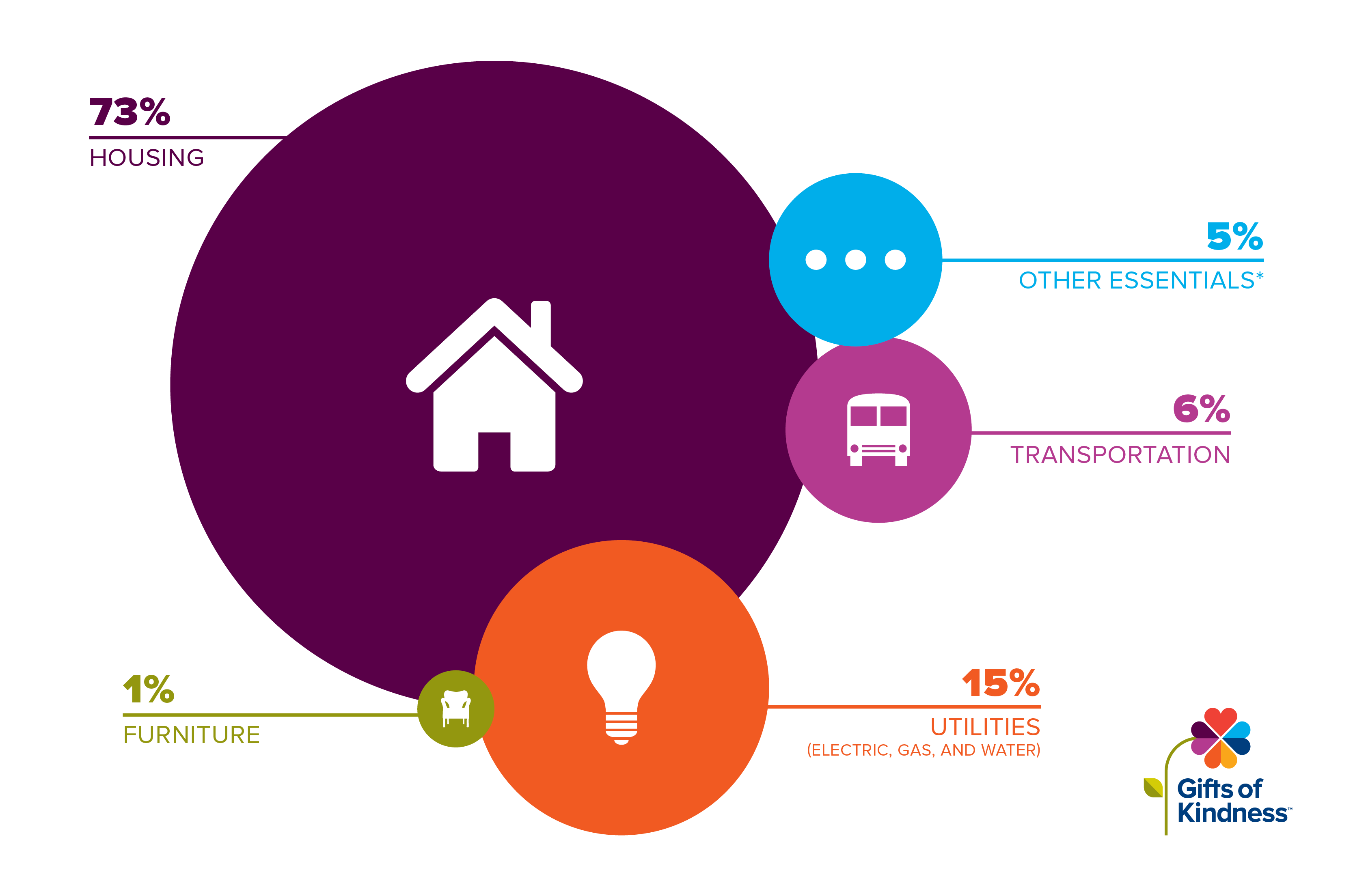 Pictured: Distribution of grants from the Gifts of Kindness Fund, 2021-2022.
*other grants were also distributed to assist with essentials such as Wi-Fi/internet bills, storage/moving fees, and extermination treatments.
Gifts of Kindness has been life-changing for many of our Goodwill employees. It has helped homeless individuals get back on their feet and provide a roof over their head, employees have not had to worry about stable housing due to short bouts of unemployment or medical issues, and it has truly been a blessing to many of our single parents who have experienced a setback. Gifts of Kindness is ultimately responsible for helping Goodwill employees overcome barriers. Thank you!


Christi Meuser, Family Strengthening Coordinator, Goodwill Industries 
FAQs
What are the "needs" covered by the Gifts of Kindness Fund?
Grants from the Gifts of Kindness Fund, usually between $500-$3,000, are awarded to nonprofit partners that work with individuals and families experiencing a sudden hardship. Those funds go directly toward expenses associated with that hardship.
Often, these expenses are related to housing, transportation, and assistance with utilities. Others include, but are not limited to, medical bills, food, and clothing.
How do I apply for assistance?
The Columbus Foundation does not apply for Gifts of Kindness on behalf of individuals. We partner with nonprofit organizations in Franklin County, Ohio to support individuals during difficult times. Please connect with one of the partner organizations, or contact Lutheran Social Services' 211 line for referral services.
How can I support the Gifts of Kindness Fund?
You can give to the Gifts of Kindness Fund here.
View Gifts of Kindness Nonprofit Partners
Gifts of Kindness Nonprofit Partners
Advocating Opportunity

Alvis

ASHA-Ray of Hope, Inc.

At Home by High

Big Brothers Big Sisters of Central Ohio

Broad Street Presbyterian Church—COMPASS

Catholic Social Services

Center for Family Safety and Healing

Center for Healthy Families, Inc.

Central Community House of Columbus, Inc.

Clintonville-Beechwold Community Resources Center

Community Development for All People

Community Housing Network

Community Refugee and Immigration Services (CRIS)

Down Syndrome Association of Central Ohio

Ethiopian Tewahedo Social Services

Franklin County Family Recovery Court

Freedom a la Cart

Gladden Community House

Goodwill Columbus

The Homeless Families Foundation

Hilliard Food Pantry

Homeport

Huckleberry House, Inc.

IMPACT Community Action

Jewish Family Services

JustChoice

Kindway

LifeCare Alliance

Lower Lights Ministries

Lutheran Social Services of Central Ohio

Maryhaven, Inc.

Military Veterans Resource Center

The Mother Ship

Motherful

Move to PROSPER

Neighborhood Services Food Pantry

New Directions Career Center

OhioGuidestone

Physicians CareConnection

Riverview International Center          

Salvation Army (Central Ohio)

South Side Early Learning


St. Stephen's Community House

Star House

Volunteers of America Ohio and Indiana

Westerville Area Resource Ministry (WARM)

YMCA of Central Ohio

YWCA Columbus