COLUMBUS, OH (February 13, 2020) — The Columbus Foundation today celebrated the accomplishments of individual community leaders and organizations who, during the past year, have been recognized by their industry peers for their outstanding contributions to their fields. They were honored at the annual National Number Ones event held at the Foundation.
"Our community is filled with extraordinary talent, and those honored today reflect that greatness. We recognize and thank these top achievers for their contributions to the prestige and progress of our community."

DOUGLAS F. KRIDLER, PRESIDENT AND CEO OF THE COLUMBUS FOUNDATION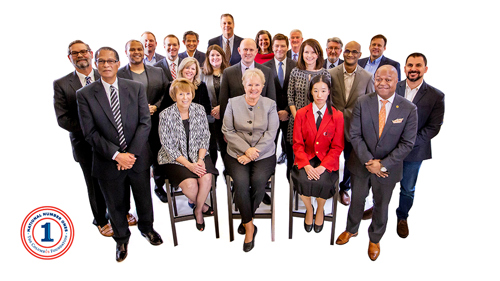 Pictured, front row (l-r): Columbus Foundation Governing Committee Chairman Dwight E. Smith, Jeanne Wohlgamuth, Westerville Mayor Kathy Cocuzzi, Kanako Matsuike, Frederic Bertley, Ph.D. Second row (l-r): Ken Freedman, Jonathan Moody, Robert P. Griffiths, Jennifer Peterson, Katie Carter, Jeremy Wenner, Dr. David Harrison, Hilary Dodson, R. Anthony Joseph, Derek Grosso. Third row (l-r): Greg Ubert, Ben Blanquera, Mike Phillips, Catherine Girves, Randy Auler, Alan D. Miller, Tom Stalf. 
The 2020 National Number Ones are:
The City of Westerville Parks and Recreation
Randy Auler, Director, Westerville Parks & Recreation
#1 2019 National Gold Medal Winner
National Recreation and Parks Association Congress
Columbus
Ben Blanquera, Vice President, Columbus Collaboratory
#1 United States City for Tech Jobs
SmartAsset
The Columbus Dispatch
Alan D. Miller, Editor and Bradley M. Harmon, Publisher
#1 Series: 25th Annual Print Journalism Awards, for series on the Costs of Prescription Drugs
National Institute of Health Care Management Foundation
Columbus State Community College
Dr. David Harrison, President
Winner of 2019 Leah Meyer Austin Award for focus on student success and its goal of creating a seamless path from high school to the workforce.
Achieving the Dream
Columbus Young Professionals Club
Derek Grosso, CEO and Founder
#1 Largest Membership Network for Young Professionals, with More Than 20,000 Registered Members
Survey of 250 YP associations/networks/chambers of commerce across the United States completed by the Columbus Young Professionals Club
Columbus Zoo and Aquarium
Tom Stalf, President and CEO
#1 Highest Number Birth Rate of Polar Bear Cubs in any North American Zoo since 2015
Association of Zoos and Aquariums
COSI
Frederic Bertley, Ph.D., President and CEO
Leading Science Center (*preliminary results; voting ends 2/17/2020)
USA Today People's Choice Award
Crimson Cup
Greg Ubert, Founder and President
#1 Small Franchise/Chain
Golden Bean North America Roasting Competition
Easton Town Center
Jennifer Peterson, Chief Executive, Easton, Steiner + Associates
#1 Retail Center Experience in America
Chain Store Age
Catherine Girves, Executive Director, Yay Bikes! Columbus
#1 Nonprofit Professional of the Year
Association for Pedestrian and Bicycle Professionals
Kaiser Consulting, LLC
Lori Kaiser, CPA, CGMA, Founder and CEO of Kaiser Consulting
#1 on the 2019 Accounting MOVE Project's Best Firms for Equity Leadership List
Accounting & Financial Women's Alliance
Moody Nolan
Curtis J. Moody, Chairman of the Board
Jonathan Moody, Chief Executive Officer
#1 Largest African American-owned and Managed Architecture firm in the United States
The New World Singers of Columbus Children's Choir
Kerry Haberkern, Managing Director; Jeanne Wohlgamuth, Artistic Director
#1 in the Youth and Children's Choir Division
The American Prize
Ohio Department of Natural Resources (ODNR)
Jeremy Wenner, Chief, Engineering, ODNR
#1 2019 National Rehabilitation Project of the Year Award for Buckeye Lake Dam
Association of State Dam Safety Officials
The Ohio State University
Robert P. Griffiths, Associate Vice President Distance Education
#1 Online Bachelor's Degree Program
U.S. News & World Report
NBC4 Stuff the Backpack
Ken Freedman, Vice President and General Manager, WCMH-TV, NBC4
#1 Largest Student Backpack Drive in the United States
Susan G. Komen Race for the Cure®
Katie Carter, Executive Director
#1 Largest Corporate Team Participation and the Largest Number of Participants for all Susan G. Komen Race for the Cure© and More Than Pink Walk© events for 2019 in the United States.
---
About The Columbus Foundation
The Columbus Foundation serves more than 2,500 individuals, families, and businesses that have created unique funds and planned gifts to make a difference in the lives of others through the most effective philanthropy possible. The Columbus Foundation is Your Trusted Philanthropic Advisor® and one of the top 10 largest community foundations in the United States.