COLUMBUS, Ohio (January 11, 2017)—Grants recently approved by The Columbus Foundation will help 25 local nonprofits address a plethora of needs, from providing meals to seniors and fostering independence for those with disabilities, to helping high school seniors apply to college. The grants, totaling $762,990, were approved by the Foundation's Governing Committee at its December meeting.  
One of those grants will aid people during a particularly difficult time. A $60,000 grant, thanks in part to the R. Leo and Juanita Lee Prindle Fund of The Columbus Foundation, was awarded to the Legal Aid Society of Columbus (LASC) to support the Tenant Advocacy Program (TAP) aimed at reducing evictions in Franklin County.
Originally formed in 1953 by a single attorney and an administrative assistant, LASC's mission is to be "the voice of justice for families living in poverty or near poverty, the disabled, senior citizens, veterans, domestic abuse victims, and abused and neglected children." This grant will help enable an onsite clinic at eviction court, providing a voice for those individuals and families who are often not represented when facing eviction.
With nearly 19,000 evictions filed in Franklin County each year, this growing issue affects the self-sustainability of some of central Ohio's most vulnerable. The TAP clinic, staffed by an LASC housing attorney and supplemented by non-lawyer volunteers, will recruit, train, mentor, and support pro-bono attorneys and legal interns who agree to provide short-term, limited legal representation to tenants.
The Tenant Advocacy Project will increase the availability of legal advocacy for tenants facing eviction in the Franklin County Municipal Court. Most tenants are unrepresented in evictions—this project will help level the playing field and keep families in their homes, both through defending individual tenants and working to change the system to more effectively reach just results.

— Tom Weeks, Executive Director, Legal Aid Society of Columbus
The following grants were also approved through the Foundation's competitive grantmaking program.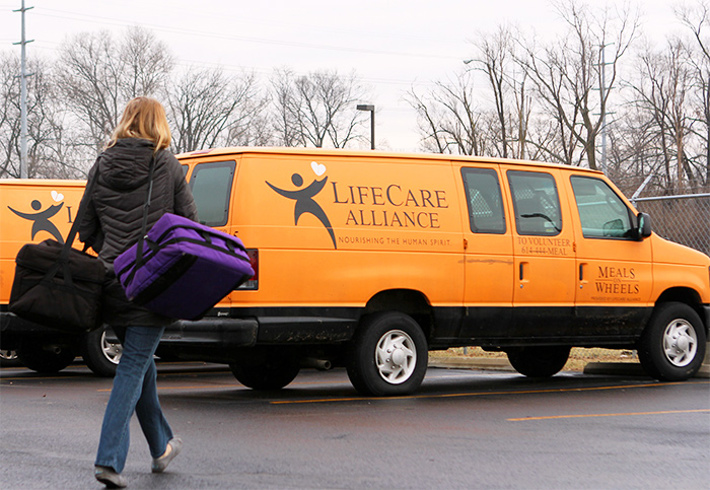 LifeCare Alliance, and its program Meals-on-Wheels, is one of 25 local nonprofits to receive a grant from The Columbus Foundation.
FUND FOR TARGETED NEEDS 
BASIC NEEDS
Community Development Collaborative of Greater Columbus—$35,000 to strengthen the capacity of Columbus community development corporations to develop affordable housing and initiate community-building activities.
Community Shelter Board—$90,000 to support operations.
HandsOn Central Ohio—$35,000 to improve resource navigation for central Ohioans with a specific focus on strengthening and expanding access to emergency food.
LifeCare Alliance—$50,000 to support the Meals-on-Wheels program.
Mid-Ohio Foodbank—$60,000 to support and expand food distribution services.
Ohio Association of Foodbanks—$60,000 to strengthen existing networks of community-based providers who are committed to empowering low- and moderate-income households.
SMALL AND SPECIALIZED GRANTS

DEVELOPMENTAL DISABILITIES
Best Buddies International—$25,000 to create inclusive communities in 12 central Ohio high schools.
Colerain Elementary PTA—$10,000 to build a paved path to provide a safe place for all students, including those with mobility impairments.
Franklin County Probate Court—$25,000 to pilot increased services to the Guardianship Service Board to serve individuals who have developmental disabilities and are indigent wards of Franklin County.
LifeTown Columbus—$20,000 to offer life skills programming related to healthy living, reading, and responding to social cues.
The Ohio State University Foundation—$10,177 to support new technology that will serve young children with physical disabilities and developmental delays at the Nisonger Center.

DISADVANTAGED CHILDREN
I KNOW I CAN—$68,900 to support increased Free Application for Federal Student Aid (FAFSA) completion rates in Columbus City Schools.
United Way of Central Ohio—$68,900 to support Columbus Kids: Ready. Set. Learn!, a program that helps prepare children for success in kindergarten.

OPPORTUNITY YOUTH
Chamber Foundation—$50,000 to support phase two of the technology platform and the launch of TalentConnect.
Media & Policy Center Foundation of California—$50,000 to support the production of Our Kids: The American Dream in Crisis PBS broadcast series.

EDUCATION
Cristo Rey Columbus High School—$2,200 to support a modeling instruction workshop for English teachers.
HEALTH: IN SERVICE EDUCATION
Crohns & Colitis Foundation of America Inc., Central Ohio Chapter—$1,000 to support education initiatives.   
Franklin County Local Outreach to Suicide Survivors—$5,000 to provide workshops on grief and suicide.

SOCIAL SERVICES: SUMMER CAMP MAINTENANCE
Boys and Girls Clubs of Columbus, Inc.—$10,000 to enclose the porch on the activity barn and support the purchase of a new utility vehicle.
Flying Horse Farms—$3,000 to repair the floating dock and install galvanized fencing at the camp pond.
Girl Scouts of Ohio's Heartland Council—$4,200 to replace the roof of the Trumbull Lodge at Camp Ken-Jockety.
Simon Kenton Council, Boy Scouts of America—$7,100 to demolish the existing nature center and improve the adjacent pavilion with structural enhancements, picnic tables, and landscaping.
YWCA of Central Ohio—$6,013 to expand the dining hall space at Camp Willson.   

SPECIAL POPULATIONS: TERMINALLY ILL
Center for Community-Based Care—$6,500 to support the educational outreach of Start the Conversation efforts in central Ohio.
---
About The Columbus Foundation
The Columbus Foundation is the trusted philanthropic advisor® to 2,500 individuals, families, and businesses who have created charitable funds and planned gifts to make a difference in the lives of others through the most effective philanthropy possible. Serving the region for more than 70 years, The Columbus Foundation is ranked among the ten largest community foundations in the United States. The Foundation's online marketplace, PowerPhilanthropy,® makes giving mobile, easy, and smart. For more information, visit columbusfoundation.org or call 614/251-4000.