Nearly $600,000 invested during 2016 through the Fund for Financial Innovation    


COLUMBUS, OH (January 24, 2017)—The Columbus Foundation's Fund for Financial Innovation (FFI) provided support to a number of local nonprofit organizations working innovatively in 2016, from workshops and trainings to expanding social enterprise efforts.
FFI, established in 2010, supports nonprofit organizations and projects that promote social enterprise, collaborations, affiliations, and mergers. In 2016, grants totaling nearly $600,000 were awarded to help organizations in their quest for ongoing self-sustainability.
In October, Lower Lights Ministries (LLM) received a $45,000 grant thanks to the Gertrude E. Kenney, Virginia Louise Schueller, and Martha G. Staub funds of The Columbus Foundation.
LLM was founded in 1991 and has evolved into a holistic community development organization that provides reentry support for women returning to society from prison, mentoring and support for families seeking self-sufficiency and home-ownership, and tutoring and mentoring for children from the neighborhood.
Since 2015, LLM has operated a full-service beauty salon, Lower Lights Salon, at Lower Lights Health Center's community health center on West Broad Street. This social enterprise venture was developed to help meet and connect Franklinton neighbors with services and provide an income stream for the organization. The Columbus Foundation grant will help expand the hours of service for the salon and provide needed equipment and supplies.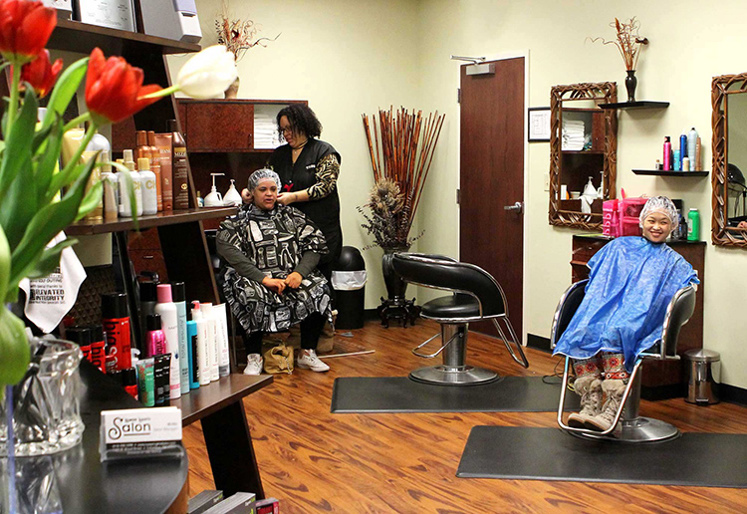 Lower Lights Salon, located in Franklinton, takes walk-ins on Mondays, Tuesdays, Thursdays, and Fridays and by appointment on Wednesdays and evenings. Learn more.
"We are excited to partner with The Columbus Foundation in our newest endeavor, the Lower Lights Salon," said Jan Ruark, CEO of Lower Lights Ministries. "With their generous support, we are able to offer a high-quality salon experience at an affordable price for the Franklinton community.
This innovative grant has provided our Salon not only with funding, but also much needed guidance as we strengthen and expand our social enterprise.

— Jan Ruark, CEO, Lower Lights Ministries

 
Additional FFI grants awarded during 2016:
Alvis, Inc.—$30,000 to support the merger/acquisition with Amethyst, Inc.
Center for Social Enterprise Development—$80,000 to support rebranding, staffing, workshops, and trainings.
Columbus Council on World Affairs—$75,000 to support development of the Global Fluency Institute. 
Columbus Early Learning Centers—$30,000 to support collaboration between Columbus Early Learning Centers and Central Community House of Columbus, Inc. in an effort to increase childcare capacity and improve services for families living on the Near East Side of Columbus.
The Columbus Foundation—$50,000 to create and fund the SEA Change Fund of The Columbus Foundation, which will support awards for the SEA Change program as well as other social enterprise efforts, and $12,000 to support the 2016 SEA Change Festival.
Ethiopian Tewahedo Social Services—$7,890 to commission an assessment of its readiness to create and sustain social enterprise in the translation services industry.
Furniture Bank of Central Ohio—$100,000 to support the social enterprise Downsize with a Heart. 
I KNOW I CAN—$50,000 to support facility renovations of an office space to be shared with Boys and Girls Clubs of Columbus, Inc.
KIVA Microfunds—$25,000 to support the launch of Kiva Columbus.
LifeCare Alliance—$50,000 to update the L.A. Catering Event Center and increase Meals-on-Wheels delivery with additional revenue.
Lower Lights Christian Health Center—$25,000 to support renovations and construction of a nonprofit grocery store in Franklinton.
United Way of Central Ohio, Inc—$20,000 to support a 2017 Kiva fellow for Kiva Columbus.
---
About The Columbus Foundation
The Columbus Foundation is the trusted philanthropic advisor® to 2,500 individuals, families, and businesses who have created charitable funds and planned gifts to make a difference in the lives of others through the most effective philanthropy possible. Serving the region for more than 70 years, The Columbus Foundation is ranked among the ten largest community foundations in the United States. The Foundation's online marketplace, PowerPhilanthropy,® makes giving mobile, easy, and smart.