Village Coordinator position will act as resource hub for services and support for aging and elderly African Americans
Columbus, OH (February 25, 2019)—Elderly African American residents of Columbus' Near East Side will soon benefit from additional support and resources dedicated to keeping them healthy and independent, thanks to an innovative grant made by the Isabelle Ridgway Foundation, an organization focused on promoting the health, wellbeing, independence, and dignity of aging and elderly African Americans.
The $79,000 grant will support the creation of a new Village Coordinator position that will act as a connection point that bridges the needs of seniors with the resources available to help them. Central Community House will receive the funds and develop the position, which is seen as an 18-month pilot project to test the sustainability of a "village network" model in the Near East Side community.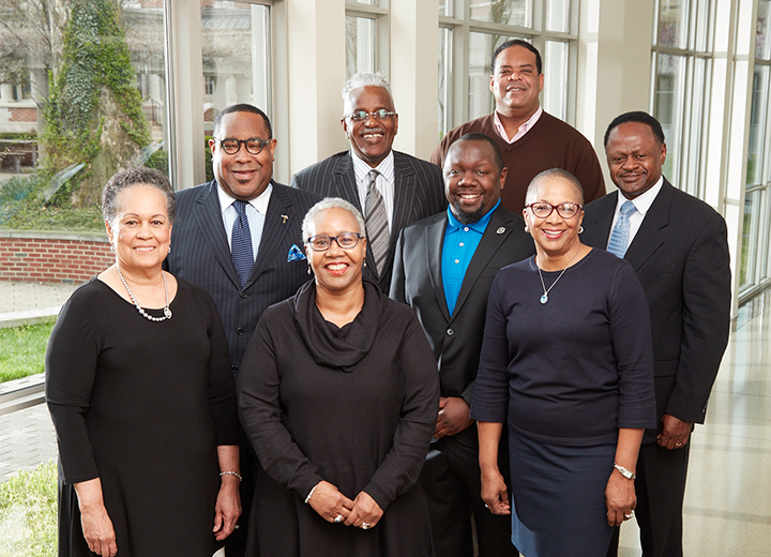 The Isabelle Ridgway Foundation Legacy Trustees. First row (l-r): Patricia B. Mullins; Evelyn Y. Cleveland; and Sandra Moody Gresham. Second row (l-r): Mark Hatcher, Esq.; Christopher G. Brown, M.D.; and Timothy Grant, CPA. Third row (l-r): Thomas L. Weaver; and James L. Ervin, Jr., Esq.
Central Community House follows the settlement house tradition of senior support as place-based and neighborhood-focused, rather than as a service delivery model, where staff are experts and residents are clients. This tradition promotes caring for senior residents through face-to-face interaction and meeting them where they are. While this village network model is common to settlement houses, the pilot project is believed to be the first time it has been modeled specifically for elderly African Americans.
"The Board is proud to support this bold step in serving our community's seniors, and in doing so, we honor the legacy of Ms. Isabelle Ridgway, who believed in a world where we treat our elders with dignity, respect, and compassion."

— PATRICIA MULLINS, board member of the ISABELLE RIDGWAY FOUNDATION
There are currently several community-based village systems operating in Franklin County. However, none serve the two neighborhoods where the highest concentration of African American seniors resides: Linden and the Near East Side.
As the population of residents in central Ohio aged 65 and over is expected to double over the next 35 years (Age Friendly Columbus Survey Report, 2017), it will become increasingly important to meet the specific challenges of an aging population in ways that improve the quality of their lives and maintain their dignity.
Participation in the program will be based on a sliding-scale fee and will provide seniors access to resources that assist them in maintaining their health and independence, such as home contractors, in-home wellness visits, exercise and socialization.
---
Isabelle Ridgway Foundation
The Isabelle Ridgway Foundation was created by the board of the Isabelle Ridgway Care Center to continue the mission of the center's founder, Isabelle Ridgway. Ms. Ridgway believed in a world where we treat the aging as our elders. As a Supporting Foundation at The Columbus Foundation, the foundation forms coalitions, sponsors research, and supports grants to improve the quality of life and systems that impact aging African Americans in the Columbus area. Visit isabelleridgway.org to learn more.
---
The Columbus Foundation
The Columbus Foundation serves more than 2,500 individuals, families, and businesses that have created unique funds and planned gifts to make a difference in the lives of others through the most effective philanthropy possible. The Columbus Foundation is Your Trusted Philanthropic Advisor® and one of the top 10 largest community foundations in the United States. Visit columbusfoundation.org to learn more.