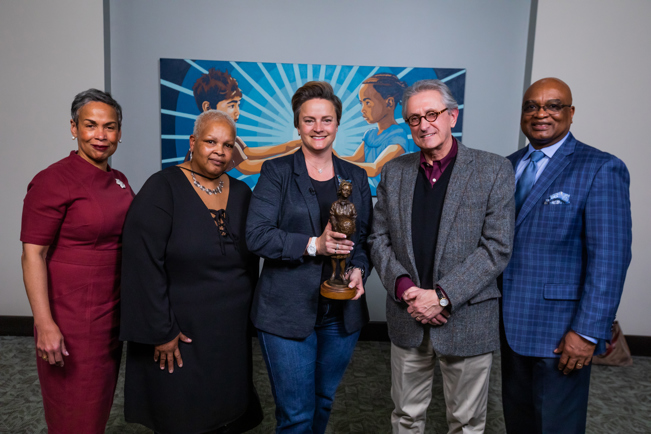 Pictured, from left—Trudy Bartley, COTA Board of Trustees member and former Chair; Marcia Woods-Johnson, Learning and Development Trainer, COTA; Joanna M. Pinkerton, President/CEO, COTA; Craig Treneff, COTA Board of Trustees Chair, and Emile Williams, Deputy Chief Executive Officer, COTA
Columbus, OH (April 18, 2022) — The Columbus Foundation today announced Joanna M. Pinkerton and the team at Central Ohio Transit Authority (COTA) as recipients of the 2022 Spirit of Columbus Award.
"It is truly humbling to accept this on behalf of all 1,100 employees, including the six that we lost during the pandemic," said Pinkerton, President/CEO of COTA. "The Spirit of Columbus Award is really about amazing people who do extraordinary things to serve our community. I am honored to lead amazing people who provide a crucial service to tens of thousands of customers every day, and also to have the support of an amazing community. It has been quite a blessing for the past four years. This award is just so appreciated."
Pinkerton shared her appreciation during a surprise announcement where 2021 Spirit of Columbus Award honoree Roshelle Pate, the "Food Soldier", presented her with the award.
The Spirit of Columbus Award, also known as The Jerries®, was created in 2013 in honor of pilot Jerrie Mock, the first woman to fly solo around the world. The award recognizes those who exhibit bravery, determination, and boldness through their actions, something Pinkerton and those at COTA did through their ongoing commitment to keep people safe, healthy, and moving in the midst of the peril and uncertainty surrounding the COVID-19 pandemic.
As part of the award a bronze miniature of the Jerrie Mock sculpture at John Glenn Columbus International Airport, created by local artist Renate Fackler, was presented to Pinkerton.
"Given the challenges they overcome and the determination they show, COTA is the Spirit of Columbus coursing through our community every day. COTA helped lead the way for our community during the pandemic, ensuring frontline workers could continue to get to their jobs, and people could get to critical medical appointments and to care for loved ones," said Doug Kridler, President and CEO of the Foundation.
"These were heroic efforts during a treacherous time, and we are proud to honor their collective commitment in this way. Joanna and her team will play a crucial role in helping our region meet the challenges of continued growth." 

Doug Kridler, President and CEO of the Foundation
In March 2020, in response to growing concerns about COVID-19, COTA launched the "Stop the Spread" campaign, ramping up sanitization procedures for its buses and transit shelters, limiting routes and passenger capacity, and suspending fares. In April 2020, it announced its Essential Travel Only Policy, with buses being used only for access to food, healthcare, travel to and from work, and caring for others. Throughout the pandemic, COTA consistently re-evaluated and updated practices and procedures in an effort to keep the buses running and all of its operators and employees safe.
In 2021, COTA remained committed to driving change. Enhanced digital and mobile customer service solutions and artificial intelligence that improves traffic safety and reduces travel time were implemented. Its on-demand mobility service, COTA//Plus, was expanded to offer more than 62,000 point-to-point rides and its first all-electric, zero-emission transit vehicles were introduced. In its recent annual report, COTA stated, "At the heart of our advancements is an equitable new fare structure adopted by COTA's Board of Trustees to increase access to our services for customers who need them most. We simplified child discounts to help families, eliminated restrictions on transfers to benefit high-use riders, and eliminated upcharges on rush-hour lines to serve our community's workforce."
Pinkerton joined COTA as President/CEO in April 2018 and is a licensed professional engineer with a history of implementing solutions to capitalize on Ohio's rich legacy of transportation, manufacturing, and technical resources.
She previously served in roles at the state's top automotive technology institutions – Honda, Ohio State University, and Transportation Research Center Inc., where she was Chief Operating Officer. Pinkerton also served in leadership roles at the Ohio Department of Transportation and in Union County, which is home to the state's first connected vehicle corridor, the U.S. 33 Smart Mobility Corridor.
In 2018, COTA was named Outstanding Public Transportation System, recognized as the best transit organization of its size in North America by the American Public Transportation Association (APTA.) It received the award again in 2020.
As our community moves forward, COTA is a leader in developing ways to create mobility solutions that work for our growing region. Pinkerton helps lead the collaborative LinkUs initiative, an effort to "provide a complete mobility system along key regional corridors, including high capacity and advanced rapid transit, technology solutions, bicycle and pedestrian improvements, and land-use changes." It addresses the challenges facing our growing region, including managing traffic congestion, ensuring equitable access to jobs and housing, promoting economic vitality, and improved sustainability, and builds on numerous previous regional planning efforts, including COTA's NextGen plan and the Mid-Ohio Regional Planning Commission (MORPC) Insight 2050 Corridor Concepts study, according to the LinkUs website.
---
JERRIE MOCK AND THE SPIRIT OF COLUMBUS AWARD
Jerrie Mock, a Bexley mother of three, took off from Port Columbus on March 19, 1964. Those who witnessed her takeoff underestimated her abilities, with one airport operator noting, "Well, I guess that's the last we'll see of her." Mock landed her single-engine Cessna, "Spirit of Columbus," safely back in Columbus on April 17 after 29 days, 21 stops, and more than 23,000 miles.
Mock was named the first recipient of The Spirit of Columbus Award in 2013, along with Jeni Britton and David Brown. Additional award recipients include the late Denny Griffith, former Mayor Michael B. Coleman, Tanny Crane, Jane Grote Abell, Michelle Alexander, ten of Columbus' leading Black artists and creatives (Suzan Bradford Kounta, Queen Brooks, Duarte Brown, William Evans, Corey Favor, Sheri Neale, Marshall Shorts, Cristyn Steward, Carnell Willoughby, Scott Woods), those who contributed to the "Save the Crew" movement, Dr. Amy Acton, and the "Food Soldier" Roshelle Pate.