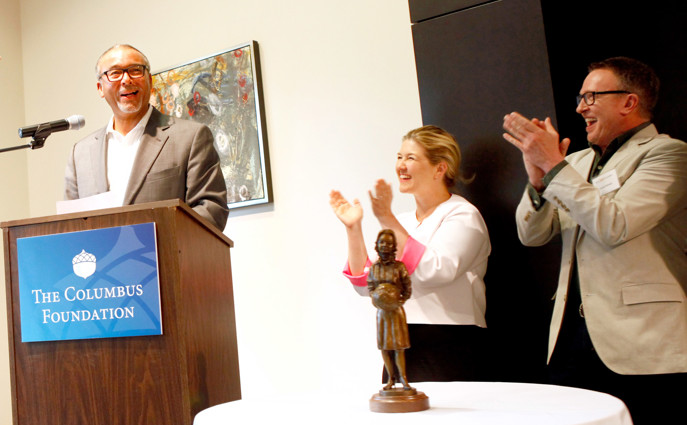 Columbus, Ohio (April 18, 2015)―The Columbus Foundation named Mayor Michael B. Coleman the 2015 winner of The Spirit of Columbus Award at an event held at the Foundation on April 17.
The Spirit of Columbus Award, affectionately known as the "Jerries" in honor of aviatrix Jerrie Mock, was established in 2013 and recognizes individuals who have exhibited exemplary community spirit through their accomplishments.
"Through The Spirit of Columbus Award, we recognize those in our community whose extraordinary accomplishments build our community and inspire us to go further—and there is no greater example of this than Mayor Michael B. Coleman. He has led our city for an unprecedented 16 years with a commitment to progress, equality and opportunity that secures his legacy as one of Columbus most enduring and successful leaders," said Douglas F. Kridler, president and CEO of The Columbus Foundation.
Mayor Coleman was presented with a "Jerrie," a bronze miniature of the Jerrie Mock sculpture at Port Columbus International Airport, created by Renate Fackler. In addition, the Foundation announced a grant of $25,000 to create the Michael B. Coleman Foundation of The Columbus Foundation. The fund will enable Mayor Coleman to suggest grants to central Ohio nonprofits of his choice over the years to come.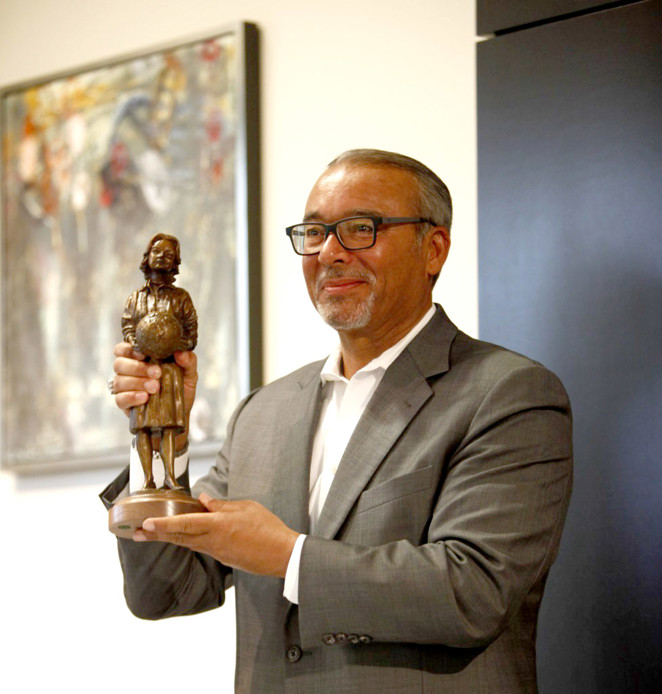 In accepting his award, Mayor Coleman commented, "The Spirit of Columbus Award – what better award in Columbus could there ever be?  To receive this is more than I could have ever thought or imagined.  No city can ever be successful without people working together to make things happen for the common good.  That's what makes Columbus special, is that we have a culture and good leaders across where we all come together for the common good."
Since taking office in 2000, Mayor Coleman has built Columbus' reputation as one of the best cities in the Midwest by building stronger, safer neighborhoods; creating jobs; and maintaining a high quality of life. Mayor Coleman is the longest-serving mayor in Columbus' history and the longest-serving incumbent African-American mayor among major U.S. cities. He has a record of balancing budgets and reforming government. Mayor Coleman's accomplishments on behalf of Columbus are significant. For example, Columbus is the largest city in the nation to maintain a AAA credit rating as well as a positive financial outlook from all three major rating agencies. And, Mayor Coleman presided over a strong economic recovery in Columbus that includes the creation of 40,000 jobs and $7 billion in private investment to the city during his tenure.
Mock was named the first recipient of The Spirit of Columbus Award in 2013, along with Jeni Britton Bauer of Jeni's Splendid Ice Creams and David Brown of the Harmony Project. Denny Griffith received the award in 2014.
Mock was the first woman to fly solo around the world, in her 11-year-old Cessna airplane with "Spirit of Columbus" emblazoned on its side. The 38-year-old Bexley housewife and mother of three took off from Port Columbus on March 19, 1964. She landed safely back in Columbus on April 17 after 29 days, 21 stops, and more than 23,000 miles. 2015 is the 51st anniversary of her flight. Mock passed away at her home in Quincy, Florida on September 30, 2014, at the age of 88.
---
About The Columbus Foundation
The Columbus Foundation is the trusted philanthropic advisor® to more than 2,000 individuals, families, businesses, and communities that have created unique funds to make a difference in the lives of others through the most effective philanthropy possible. Serving the region for 70 years, The Columbus Foundation is the seventh largest community foundation in the United States. The Foundation's online giving marketplace, PowerPhilanthropy®, makes it possible for everyone to access valuable information about nonprofit organizations in central Ohio.