Columbus, OH (April 18, 2017)—The Columbus Foundation named Michelle Alexander, legal scholar, advocate, civil rights attorney, and author of the groundbreaking book, The New Jim Crow: Mass Incarceration in the Age of Colorblindness, the 2017 winner of The Spirit of Columbus Award. The announcement was made at a civic celebration held yesterday at the Foundation.
The Spirit of Columbus Award, affectionately known as the "Jerries" in honor of aviatrix Jerrie Mock, recognizes individuals who have exhibited exemplary community spirit through their accomplishments.
"Michelle is being presented The Spirit of Columbus Award for igniting a national movement that is inspiring organizations and individuals to take constructive action on criminal justice reform," said Douglas F. Kridler, President and CEO of The Columbus Foundation. "Her call for love and understanding in the face of systemic bias is hugely inspiring and we are proud she and her family call Columbus home."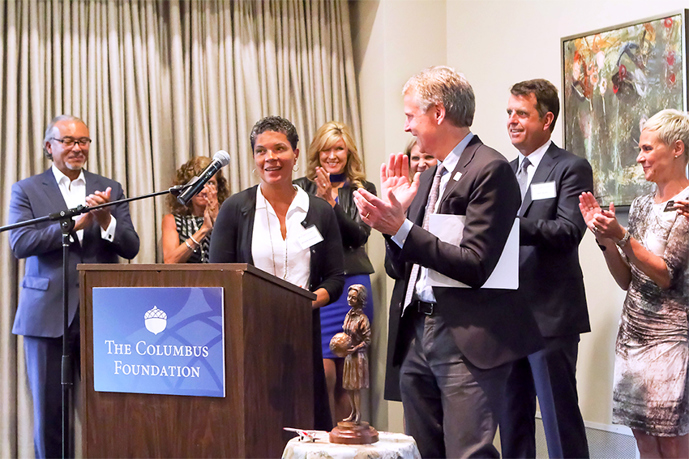 "Yearning for a deeper connection and a sense of purpose in our lives is what being human is all about. In my own view, it's our refusal to deal openly and honestly with race that leads us to keep repeating these cycles of exclusion and division, and rebirthing a caste-like system that we claim we've left behind." 

—Michelle Alexander
In addition to leading campaigns against racial profiling, Alexander served as a clerk for Justice Harry A. Blackmun of the U.S. Supreme Court and for Chief Judge Abner Mikva of the U.S. Court of Appeals for the D.C. Circuit. She has also taught at a number of universities, including Stanford, where she graduated from law school, and The Ohio State University. She is currently at work on her next book.
Alexander was presented with a "Jerrie," a bronze miniature of the Jerrie Mock sculpture at Port Columbus International Airport, created by local artist Renate Fackler. In addition to the sculpture, Alexander will receive a $5,000 grant to support the nonprofit of her choice. Mock, a Bexley mother of three, took off from Port Columbus on March 19, 1964. She landed safely back in Columbus on April 17 after 29 days, 21 stops, and more than 23,000 miles.
Mock was named the first recipient of The Spirit of Columbus Award in 2013, along with Jeni Britton Bauer and David Brown. Recent award recipients include Denny Griffith, former Mayor Michael B. Coleman, and Tanny Crane and Jane Grote Abell.
"Michelle's career and work on behalf of social justice truly represents The Spirit of Columbus," Kridler said.
---
 About The Columbus Foundation
The Columbus Foundation is the trusted philanthropic advisor® to more than 2,500 individuals, families, businesses, and communities that have created unique funds to make a difference in the lives of others through the most effective philanthropy possible. More than 70 years strong, The Columbus Foundation ranks among the top ten community foundation in the United States. Visit columbusfoundation.org to learn more.