The "Food Soldier" represents neighbors helping neighbors during pandemic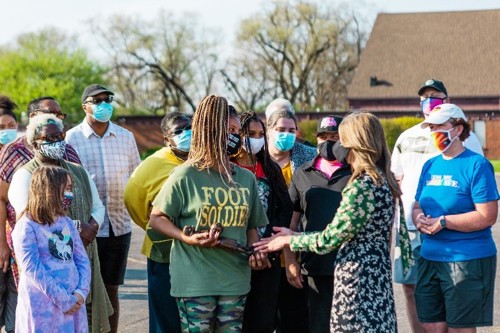 Roshelle Pate accepts a statuette of Jerrie Mock from Dr. Amy Acton, the 2020 Spirit of Columbus Award honoree, at Hosack Street Baptist Church.
Columbus, OH (April 17, 2021) — The Columbus Foundation today announced Roshelle Pate, also known as the "Food Soldier," as the 2021 recipient of The Spirit of Columbus Award.
Pate was selected as the honoree in recognition of the work she and thousands of volunteers do to feed food insecure neighbors, especially during the hardest days of the pandemic.
Since 2015, Pate has organized and led free food giveaway events around the Columbus area, and she has inspired others to join her in the cause, both in person and online. Through The Food Soldier Facebook group, which has 15,000 central Ohio members, neighbors connect one another with food, as well as other resources, such as employment opportunities and mental health assistance.
"The work Roshelle and the Food Soldier network does is truly the essence of community. It's about neighbors helping neighbors. It's the work that exhibits humanity and builds the unity in community. We are grateful to Roshelle and all those who have shown determination and bravery in helping others through these particularly challenging times."

DOUGLAS F. KRIDLER, PRESIDENT AND CEO
In accepting the award, Pate, an Air Force veteran, said, "As a military veteran myself, I was taught that we leave no man behind. We leave no man on the field alone. So, a food soldier is someone who does just that. They do not leave their neighbor behind. And they not only help, but they show others how to help, they teach others to teach others. For me, what this really represents is the spirit of community."
As this year's honoree, Pate received a "Jerrie," a bronze miniature of the Jerrie Mock sculpture at John Glenn Columbus International Airport, created by local artist Renate Fackler.
Dr. Amy Acton, who received the award last year on behalf of healthcare workers responding to the pandemic, presented the miniature to Pate. "You saw something that you couldn't unsee, and you didn't look the other way," Acton said to Pate. "People saw what you were doing [to help], and they came with you. These small moments, these intentional acts of kindness, these are the ways we help each other. This is how we get through dark times."
In addition to the bronze miniature, Pate received a $25,000 grant to designate to a nonprofit of her choice.
The Spirit of Columbus Award was created in 2013 in honor of pilot Jerrie Mock, the first woman to fly solo around the world. The award recognizes those who exhibit bravery, determination, and boldness through their actions.
Mock, a Bexley mother of three, took off from Port Columbus on March 19, 1964. Those who witnessed her takeoff underestimated her abilities, with one airport operator noting, "Well, I guess that's the last we'll see of her." Mock landed her single-engine Cessna, "Spirit of Columbus," safely back in Columbus on April 17 after 29 days, 21 stops, and more than 23,000 miles.
Mock was named the first recipient in 2013, along with Jeni Britton Bauer and David Brown. Additional award recipients include the late Denny Griffith, former Mayor Michael B. Coleman, Tanny Crane, Jane Grote Abell, Michelle Alexander, ten of Columbus' leading Black artists and creatives (Suzan Bradford Kounta, Queen Brooks, Duarte Brown, William Evans, Corey Favor, Sheri Neale, Marshall Shorts, Cristyn Steward, Carnell Willoughby, Scott Woods), those who contributed to the "Save the Crew" movement, and Dr. Amy Acton.
---
About The Columbus Foundation