Columbus, OH (August 2, 2017)—Amy Stearns Acton, MD, and Matthew Martin will join The Columbus Foundation and serve as officers in the Community Research and Grants Management department. Dr. Acton and Martin bring extensive community experience and research backgrounds that will support the Foundation's grantmaking and initiatives—with special emphasis in the areas of public health and neighborhood revitalization.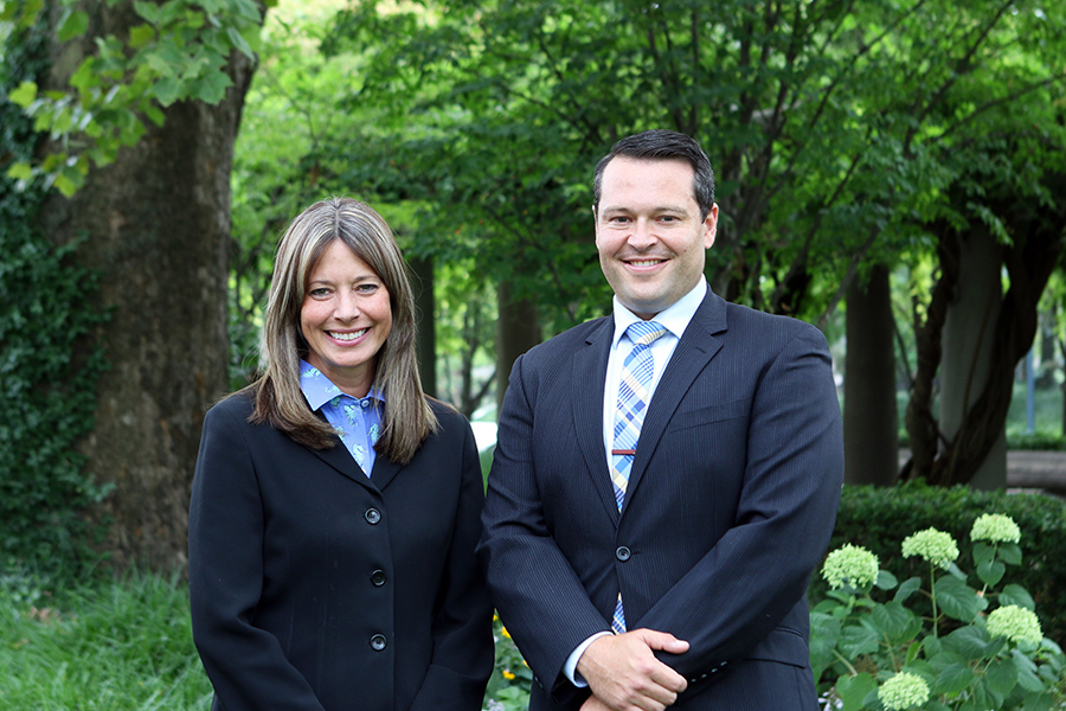 "Amy and Matthew bring a depth of knowledge and expertise about issues affecting our community in key areas of importance to the Foundation and its donors," said Douglas F. Kridler, President and CEO of The Columbus Foundation."We look forward to their contributions and efforts to help strengthen and improve our community for the benefit of our residents."
"As a team, and organization, we are very excited by the addition of our new colleagues. Relationships with nonprofit organizations and a broad base of community knowledge are paramount to the Foundation's mission. I look forward to Dr. Acton and Matthew engaging with our community in their new roles at the Foundation."

—Dan Sharpe, Vice President for Community Research and Grants Management, The Columbus Foundation
Dr. Amy Acton served as Assistant Professor-Practice at The Ohio State University College of Public Health, a Division of Health Services, Management, and Policy, since 2011. A licensed physician in Preventive Medicine and Public Health, she brings over 30 years of experience in teaching and data analysis, academic and nonprofit administration, government and community service, medical practice, consulting, as well as healthcare policy and advocacy. Previously, she served as Visiting Faculty Professor at the Center for Injury Research and Policy at the Research Institute at Nationwide Children's Hospital, Adjunct Professor at The Ohio State University College of Medicine and Public Health, and Director of Project L.O.V.E. (Love Our Kids, Vaccinate Early).
She attended medical school at Northeastern Ohio University College of Medicine; completed her internship and residency training in pediatrics at Albert Einstein College of Medicine, New York City, and Children's Hospital/OSU; and a residency in preventive medicine at The Ohio State University. She holds a master's degree in Public Health from The Ohio State University.
Dr. Acton's philanthropic activities have included involvement on numerous boards and committees, including ENCompass (Empowering Neighborhoods of Columbus), OSU/PACT Health Sciences Academy, Jewish Community Center (JCC), Beth Tikvah Synagogue, Bexley City School Climate Advisory Committee, and United Way Health Vision Council.
Dr. Acton resides in Bexley with her husband, Eric. Together they have six grown children.
Matthew Martin has been a researcher with the Kirwan Institute for Race and Ethnicity at The Ohio State University since 2009. While at Kirwan, Martin produced the Institute's award-winning documentary, Free To Ride, and has conducted community assessments with partners around the country to help them understand spatial patterns of vulnerability and how to make their communities more sustainable by improving access to opportunity for their most marginalized members. He also managed the 2014 study of Franklin County seniors and was the lead author of the subsequent report "Meeting the Challenges of an Aging Population With Success." Prior to joining the Kirwan Institute, Martin was a regional planner with the Miami Valley Regional Planning Commission in Dayton, where he worked on land use policy, transportation planning, and regional development. 
Martin holds a bachelor's degree in Urban Affairs and a minor in African and African American Studies from Wright State University, and a master's degree in City and Regional Planning from The Ohio State University.
Martin's community activities include serving on the Facilities Master Plan Ad Hoc Committee for Columbus City Schools, the Housing Committee Chair for the Weinland Park Community Civic Association, and as an Advisory Board Member of OSU Extension. He also serves as a Pastor at the Short North Congregation of Veritas Community Church.
 Martin resides in Weinland Park with his wife Ashley and their three children. 
---
About The Columbus Foundation

The Columbus Foundation is the trusted philanthropic advisor® to more than 2,500 individuals, families, and businesses that have created unique funds and planned gifts to make a difference in the lives of others through the most effective philanthropy possible. More than 70 years strong, The Columbus Foundation is the eighth largest community foundation in the United States. The Foundation's new Giving Store is a one-stop shop for easy and effective philanthropy. Explore The Giving Store at columbusfoundation.org.