Columbus, OH (March 19, 2019)—The Columbus Foundation today recognized five innovative central Ohio organizations poised for an exceptional year of growth and progress during its "5 Nonprofits to Watch" event.
The organizations selected for 2019 are: A Kid Again, Columbus Early Learning Centers, Human Service Chamber, ProMusica, and TECH CORPS.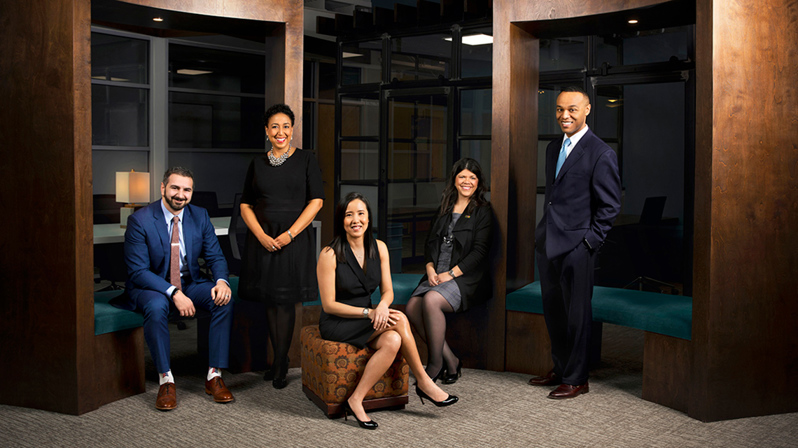 5 Nonprofit to Watch leaders (l-r): Michael Corey, Human Service Chamber of Franklin County; Lisa Chambers, TECH CORPS; Janet Chen, ProMusica; Gina Ginn, PhD., Columbus Early Learning Centers; Oyauma Garrison, A Kid Again.
"The extraordinary work of these nonprofits promises to move our community forward. Collectively, these five organizations are tackling challenges and creating hope for a bright future where all in our community flourish."

DOUGLAS F. KRIDLER, PRESIDENT AND CEO OF THE COLUMBUS FOUNDATION
5 Nonprofits to Watch debuted in 2014 as an annual program of The Columbus Foundation, and honors remarkable nonprofit organizations working to strengthen and improve our community. Each recipient organization received a $7,500 grant.
More about this year's honorees:
A Kid Again
A Kid Again hosts year-round adventures to support children struggling with life-threatening health conditions and their families, providing memories that will last a lifetime. Last year, A Kid Again served more than 12,000 people in central Ohio, and, since its founding more than 20 years ago, has served over 200,000. A Kid Again is currently in expansion mode, with plans to strengthen family services and increase connections among those living with life life-threatening illness locally and regionally. The regional expansion will bring new opportunities for industry partnerships, engagement with other illness specialties at hospitals, and, most importantly, the opportunity to serve more children.
Columbus Early Learning Centers
For more than 130 years, Columbus Early Learning Centers (CELC) has been providing early learning and care to Columbus children. A tradition of affordable access to high-quality early childhood education has strengthened the lives of thousands of children, families, and the communities in which they live. Half of the pupils come from families that make $20,000 or less annually, and 75 percent are living at or below 200 percent of the poverty level. Currently, four centers are operating between the Near East Side and Linden. A fifth center is under construction in Franklinton to restore CELC's presence in that neighborhood, after being absent since 2012. The new center will create the capacity to care for sick children, which is important in ensuring that low income workers need not decide between earning money for their family and caring for their sick child.
Human Service Chamber of Franklin County
A backbone of our community, the human services sector is integral to the survival of many of our neighbors. The Human Service Chamber of Franklin County (HSC) brings a coordinated and energized voice to its 70 members through its core functions of public policy advocacy, driving of collaboration, and education of its agencies and of the community at large. Influencing and tracking local, state, and federal laws and regulations of interest to members is a top priority, and HSC will continue to respond with vigilance as organizations feel budgetary pressure from government and increased community needs. In recent years, HSC has demonstrated extraordinary organizational value and increased its membership, resulting in a stronger, more unified sector.
ProMusica
Celebrating 40 years of creative expression, the mission of ProMusica is to deliver a world-class and unique classical music experience through innovative chamber orchestra programming, educational outreach, audience intimacy, and artistic excellence. The organization kicked off its anniversary season with the world premiere of The Flood, which The Wall Street Journal lauded as "a remarkably sophisticated piece of storytelling." Widely recognized as a national leader in presenting new and contemporary repertoire, ProMusica has commissioned 67 pieces and has presented more than 110 world and regional premieres. With a strong commitment to learning and education, ProMusica's community outreach programs touch 16,800 lives each season.
TECH CORPS
For more than two decades, TECH CORPS has worked to ensure K-12 students have equitable access to the technology skills, programs and resources that enhance early learning and prepare them for college and career. TECH CORPS brings additional technology opportunities to K-12 students and teachers through partnerships with educational institutions, businesses, the government sector, and the community. One such partnership is the IT Collective, a collaborative, cross-sector group working to develop a comprehensive and inclusive strategy to connect Columbus residents, particularly underrepresented groups including Opportunity Youth, to current and future technology career opportunities. These strategic partnerships will continue to increase the impact of TECH CORPS in central Ohio as the organization grows nationally, creating additional pathways from elementary school to technology careers.
---
About The Columbus Foundation
The Columbus Foundation serves nearly 3,000 individuals, families, and businesses that have created unique funds and planned gifts to make a difference in the lives of others through the most effective philanthropy possible. The Columbus Foundation is Your Trusted Philanthropic Advisor® and one of the top 10 largest community foundations in the United States.