Troy, OH (January 25, 2023)—The trustees of the Paul G. Duke Foundation are pleased to welcome two new board members, Alandra B. Buerger and Bart E. Denlinger. "I am thrilled that Alandra and Bart are joining the Paul G. Duke Foundation," said foundation president Rayce T. Robinson. "They are both strong leaders within the Troy community that are deeply committed to positively impacting the lives of those around them. We look forward to strengthening relationships through their contributions and continuing to meet the community where their needs are."
Alandra B. Buerger brings to the board a strong commitment to philanthropy and volunteering, and a deep knowledge of Miami County and the organizations serving its children and families. "I am excited about assisting a group that does so much to support the numerous well-deserving organizations throughout Miami County," she said. Over more than 30 years, she has developed an extensive record of community engagement, service and leadership through roles at numerous businesses, nonprofits and religious organizations in the Troy area. Currently the business manager for Dungan & LeFevre, Alandra also serves as an elder at First Presbyterian Church of Troy. She lives in Troy with her family.
Along with his strong interest in the growth, development, and strength of the Miami County community, Bart E. Denlinger brings to the board multifaceted experience with organizational leadership and governance gained through his years in business and with nonprofit organizations. Bart is the founder and CEO of Denlinger and Sons Builders, which has been active in the Miami County area since 1992. He also owns Legacy Cabinets and Design, and continues as the managing partner of 3 Gen D Development. With his focus on family and on connections to and within the community, Bart has served in a variety of capacities with nonprofit organizations that serve area residents, ranging from the Lincoln Community Center and the Miami County Homebuilders Foundation to Habitat for Humanity and United Way of Miami County.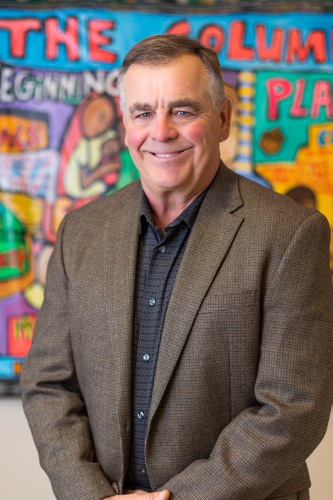 Pictured: Bart E. Denlinger
"Paul Duke and his daughter, Pat Robinson, have created a great tradition of giving back to our community, said Bart. "I look forward to helping the Duke Foundation carry their legacy into the future."
Bart and his wife, Teri, live in Troy.
The Duke Foundation's Board of Trustees encourages nonprofit organizations serving the Miami County area to apply for grants. Grantmaking interests focus on programs benefiting children, young adults, and families in the areas of social services, education, health, and the arts. Applications are accepted on a rolling basis. More information on applying for grants can be found at PaulGDukeFoundation.org.
The Paul G. Duke Foundation, a Supporting Foundation of The Columbus Foundation, was established in 1983 by Paul G. Duke, a Miami County businessman and philanthropist, and has paid more than $27 million in grants to strengthen and improve the community. Mr. Duke's philanthropic activities have been continued by his daughter, Patricia Duke Robinson, an active community volunteer and advocate for the residents of Miami County.
Mrs. Robinson has entrusted stewardship of the foundation to dedicated leaders from the Miami County community, who are committed to building on the foundation's decades of strategic grantmaking and investment in the region.
The Duke Foundation's Board of Trustees is: Rayce T. Robinson; Alandra B. Buerger; Linda A. Daniel; Bart E. Denlinger; William J. McGraw, III, Esq.; Deborah Miller; and Wade Westfall. Patricia Duke Robinson serves as President Emeritus.