Chris Bradley's legacy of faith and love lives on
You could say Jason Krauss made a memorable first impression, literally falling for Chris Bradley back in 1995 when the two met during an AIDS walk in Detroit. Sporting his rollerblades, Krauss was mesmerized by the charismatic, young Bradley, and promptly fell on his behind.
Bradley, an only child from rural Indiana, and Krauss, who grew up one of eight siblings in Michigan, fell in love. The couple moved to Columbus in 1998 when Bradley was offered a position as chief meteorologist at WSYX-TV. In 2006, he moved over to WBNS-TV where he remained for the rest of his career.
"Chris loved being a journalist," said Bradley-Krauss, who took Chris' last name after their wedding. "He had a genuine curiosity and affection for his fellow man. And he loved to talk with people and learn all about them. Underneath it all, Chris was a weather geek. I liked to tease him by reminding him that at his core he was a scientist with really good hair and dimples."
Bradley was revered by his loyal viewers, who were taken by his warm spirit and joy for life. The couple settled into German Village, with Bradley-Krauss starting his own design firm. They both enjoyed the friendliness of Columbus, and Bradley-Krauss was happy when they decided to establish roots here.
Fatherhood was something the two had dreamed of since early in their relationship. Bradley had been adopted, so it was a comfortable choice for the couple to make in terms of starting their family. They adopted their son, Spencer, from Guatemala in 2004 and returned to adopt their daughter, Maria, in 2007.
"I've always been very family oriented," explained Bradley-Krauss. "Establishing my own family was very important and I was fortunate in Chris to have found a partner who wanted the same thing."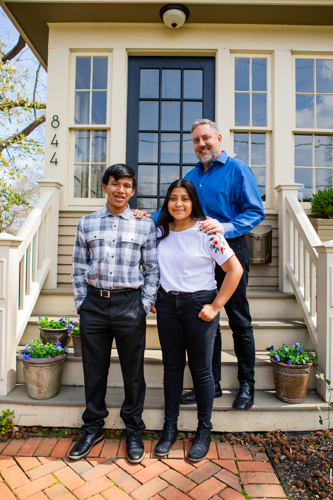 Jason Bradley-Krauss with his son, Spencer, and daughter, Maria.
In 2014, the couple married in New York City at City Hall with their children by their side. Bradley-Krauss calls it the happiest day of his life. In March 2017, Bradley fell ill with what he believed was the flu.
It turned out to be acute myeloid leukemia, an aggressive cancer of the blood and bone marrow.
He courageously battled the disease for 21 months, an effort that was physically and emotionally exhausting for everyone involved. But, even on the darkest days, Bradley's spirit still shone.
"It was a vicious roller coaster of treatments and battling, but Chris was remarkable," Bradley-Krauss said. "He really leaned into his faith and he showed such courage. As a couple and as a family we did everything we could to keep hope alive."
As Bradley's illness progressed, he received the devastating news that he was out of treatment options. He came home to spend his final days, and passed away surrounded by his family on December 5, 2018.
I've learned that love prevails. It burns with an eternal flame. This next chapter of our lives is all about wrapping our arms around that love and carrying it forward." 

Jason Bradley-Krauss 
Bradley-Krauss was overwhelmed thinking about the generosity of the community and finding a way for those who loved Bradley to honor his life. He established the Chris Bradley Memorial Fund, a Donor Advised Fund at the Foundation, to carry on his legacy of giving.
"Establishing the Chris Bradley Memorial Fund has allowed me and our children to support causes and organizations that Chris really found important."
Since its inception, the fund has supported nonprofits including Donate Life America, AIDS Walk Ohio, Pelotonia, The James Cancer Hospital, and King Avenue United Methodist Church.
"Grief is heavy. Grief is hard. It is excruciating at times. But Chris is very much still part of our family. He's part of our lives. Our love for him today is no different in his absence than the love when he was physically here with us."