Anne Richie is, by her own admission, a numbers person. She knows that Black women are the fastest growing demographic of entrepreneurs in the United States, and she can easily cite data on the out-performance of diverse entrepreneurs and fund managers. But Richie is also acutely aware of the headwinds that Black entrepreneurs face when trying to access capital to accelerate their businesses, and that the asset management industry continues to struggle with a lack of diversity.
That's why Richie, who holds extensive banking and venture fund experience, is passionate about her work at The Mezzanine Fund, which provides flexible, patient loans to mid-sized businesses owned by women and people of color.
"If the fastest-growing segment of business starters is Black women—which it is—and we're not funding them, then we're moving backwards in terms of innovation, creativity, and advancement," explained Richie, The Mezzanine Fund's Founder and Managing Director. "In central Ohio, we're really focused on trying to create an ecosystem of larger diverse-owned companies that have greater profitability, longevity, and impact."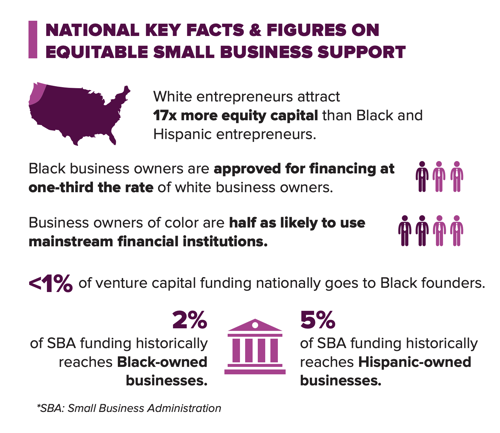 Data sources: Next Street, The Review of Economics and Statistics, Federal Reserve Small Business Credit Survey, Crunchbase News, and Small Business Administration
The Mezzanine Fund is one of five businesses serving the central Ohio region to recently receive a Program Related Investment (PRI) from The Columbus Foundation's Equitable Small Business Fund. The five businesses—Aventi Enterprises LLC, Embedded Services, The Mezzanine Fund, Our Hospitality Group LLC, and Prospera Advisory Group—are the first to receive funding from the Equitable Small Business Fund, with a total of $2.6 million in PRIs being distributed.
Launched in May 2022, the Equitable Small Business Fund aims to help close the racial wealth gap in central Ohio by increasing access to capital and services for Black and Brown entrepreneurs. A committee of highly knowledgeable and respected small business champions oversees the evaluation and decision-making process for investments.
Small businesses dominate the local economy: 98 percent of businesses in Franklin County are small businesses. However, although people of color represent one-third of the population in Franklin County, businesses owned by people of color account for only 17 percent of total small businesses locally; Black-owned businesses account for just 4 percent. By intentionally focusing on small businesses, this effort will foster a more inclusive and equitable small business ecosystem in central Ohio—benefiting residents and the economy locally.
Each of the five businesses selected to receive a PRI is deeply committed to supporting diverse entrepreneurship in our region—yet their approaches vary in distinct and innovative ways. Aventi Enterprises, for example, will use its PRI to distribute small, short-term loans to women- and minority-owned businesses in Columbus to help them accelerate their growth. Deonna Barnett, CEO & Managing Consultant of Aventi Enterprises, said she hopes to distribute loans to a minimum of 170 businesses in central Ohio over the next five years.
"I am excited about the number of businesses that are going to experience accelerated growth through these loan funds. With the short-term loans, we can quickly leverage these dollars to support a lot more minority-owned businesses in our community. Our impact will be pretty significant."

Deonna Barnett, CEO & Managing Consultant of Aventi Enterprises
Similarly, Prospera Advisory Group will use its PRI to distribute low-interest loans to small business owners and first-time real estate investors in Franklin County from underserved backgrounds, with the goal of helping their clients gain access to traditional financing options. Richard Adiansingh, Managing Partner at Prospera Advisory Group, called the investment from the Equitable Small Business Fund a "game-changer."
Ralph Abbott, also a Managing Partner at Prospera Advisory Group, agreed. "These funds give us an opportunity to teach people how they can be successful. It's exciting that we have the capital to get out there and talk to more businesses, help them, and hopefully turn them around so they can receive traditional financing."
Meanwhile, Our Hospitality Group LLC is leveraging its PRI to support the operations of Marvin's, a Black-owned restaurant in the Brewery District that opened in July 2022. Marlon Platt, Managing Partner at Our Hospitality Group LLC and Co-Owner of Marvin's, sees the restaurant as a space for other entrepreneurs of color to gather, socialize, and network through events like small business happy hours and informational forums.
"We're hoping to be champions for those who want to start a business—whether it's a restaurant, bar, hair salon, whatever it may be. The restaurant is a space for engagement and connectivity. We have the opportunity to give hope to other individuals who look like us, people who are young, who have these lofty ideas to start their own business. We really want to champion that."

Marlon Platt, Managing Partner at Our Hospitality Group LLC and co-owner of Marvin's
Finally, Embedded Services (Embedded), a go to market and business strategy practice focused on building a more diverse and sustainable future in technology, will use its PRI to grow its team, enabling Embedded to work with more early and late stage technology companies. According to Co-Founders and Managing Partners Kumi D. Walker and Shereen Agrawal, efforts like the Equitable Small Businesses Fund help unlock diverse entrepreneurship—which, in turn, leads to better outcomes and more economic growth.
"Diversity of experience creates better solutions," explained Walker. "By working alongside ventures to help them scale and grow, we aim to see more founders with deep expertise and empathy creating solutions that impact underserved markets."
More information on the Equitable Small Business Fund, including details about how entities can apply for funding, can be found here.