New report identifies problems and potential solutions
COLUMBUS, Ohio (September 23, 2015)—Today, The Columbus Foundation announced Franklin County Commissioner Marilyn Brown will lead a public-private task force to forge a comprehensive solution for families facing a devastating housing crisis. The partnership will identify, improve, and create services to keep families in their homes and halt an over reliance on the emergency shelter system, which is reeling from the surge of central Ohio families turning to homeless shelters.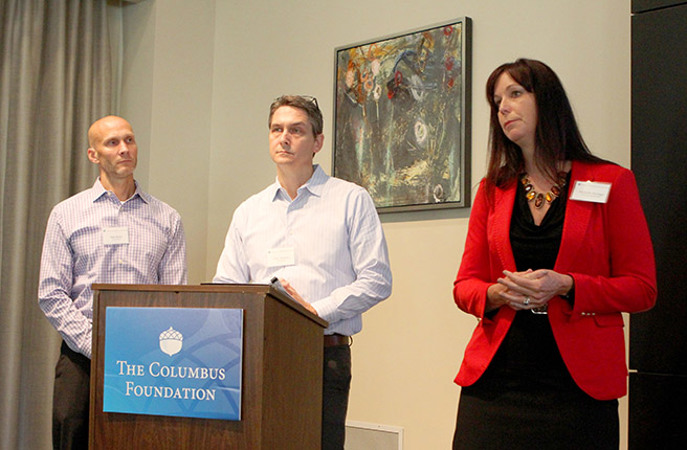 Photo: Matt White and Tom Albanese of Abt Associates, along with Michelle Heritage, Community Shelter Board, answer questions about the report at The Columbus Foundation.
A recent report, commissioned by the Foundation and Community Shelter Board, found a steep decline in welfare benefits, a tight housing market, and a lack of prevention assistance all contributing to the dramatic growth in families seeking homeless shelter in Franklin County over the last four years. In commissioning the report, the Foundation and Community Shelter Board sought to determine the roots of the massive increase, and identify possible solutions to address this growing problem.   
"Some families are a month's rent, or less, away from losing their homes. If we can keep people from becoming homeless, by working with landlords and lending institutions while offering people diversion and prevention alternatives before families are on the street, we can make a significant impact in the numbers using our shelters," said Commissioner Brown. "Shelter should always be a last resort, and a temporary solution. We must also explore how our public/private services might be integrated so we are not just referring families in trouble, but actively triaging the problem and working together to stabilize lives."
The recent report, authored by Abt Associates, found multiple reasons for the increase in homelessness among families. Those include a loss of $72 million in state benefits to poor families and adults over the last five years, as well as a robust rental scene that is pricing families with low incomes out of the housing market. The report also noted an overreliance on the Community Shelter Board as the "go-to" system for families in crisis, and the need to develop more preventive services for families to keep them from losing their homes.
"The Community Shelter Board has worked tirelessly to assure that no family is turned away from emergency shelter and forced to sleep on the streets," said Douglas F. Kridler, president and CEO of The Columbus Foundation. "This report clearly states that it needs more help as preventive services disappear, poverty continues to remain high at 17 percent of the population, and families still struggle from the aftermath of the Great Recession."
There was some good news in the report. Thirty-six percent of families living in shelters have jobs, and their average monthly income reached $645, up 44 percent from 2010. And 75 percent of families who find housing do not return to homelessness, meaning the return rate is relatively low. The report found that other Ohio cities that offer preventive and a mix of community-based services did not experience the same high rates as Columbus.
Other factors that have contributed to the rise in family homelessness in our community include a drop in rental vacancies from 10 to 5 percent, and high rents (two bedroom) that now average $782/month.
In 2007, the Columbus Metropolitan Housing Authority had to close its wait list for Section 8 housing assistance vouchers and 1,000 vouchers have been cut from the system.  Moving in with others to offset rent prices is also an issue, with 13 percent of families reporting living in overcrowded conditions, typically the first sign of a crisis.
---
About The Columbus Foundation
The Columbus Foundation is the trusted philanthropic advisor® to 2,400 individuals, families, and businesses who have created charitable funds and planned gifts to make a difference in the lives of others through the most effective philanthropy possible. Serving the region for more than 70 years, The Columbus Foundation is the seventh largest community foundation in the United States. The Foundation's online marketplace, PowerPhilanthropy,® makes giving mobile, easy, and smart. For more information, visit columbusfoundation.org or call 614/251-4000.


---
About Community Shelter Board
Community Shelter Board is a collective impact organization that creates collaborations, innovates solutions, and invests in quality programs to end homelessness in Columbus and Franklin County. Community Shelter Board oversees an annual budget of $31 million to support homeless programs and services. Last year, these programs served 12,000 people. Community Shelter Board is funded by the City of Columbus, the Franklin County Board of Commissioners, the United Way of Central Ohio, The Columbus Foundation, Nationwide Foundation, American Electric Power Foundation, the U.S. Department of Housing and Urban Development, the State of Ohio, and many other public and private investors. For more information, visit www.csb.org.