Troy, OH (February 8, 2022)—The trustees of The Paul G. Duke Foundation are pleased to announce the election of Rayce T. Robinson as the Foundation's fourth president.
Mr. Robinson joined the Duke Foundation's board in 2017, inspired by stories of the Foundation's creation and activities under the leadership of his great-grandfather, Paul G. Duke, and his grandmother, Patricia Duke Robinson. "My great-grandfather always said, 'family is most important.' To him, 'family' meant more than just immediate family, as he believed it more broadly encompasses those around us, specifically everyone in and around Miami County," Mr. Robinson explained. "His passion for helping those in need radiated through our previous leaders, in my grandmother, Patricia Duke Robinson, as well as most recently Linda Daniel. I am honored and humbled with the opportunity to continue their legacies of leading and serving in new and innovative ways for the future of our 'family.'"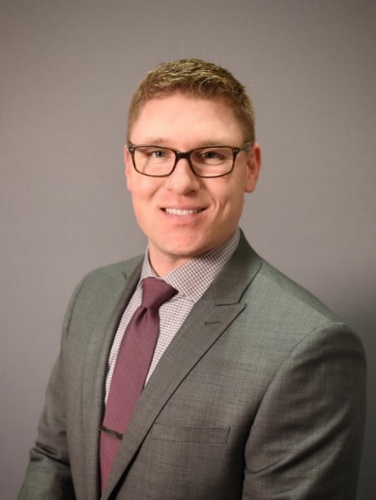 Rayce T. Robinson, President of the Paul G. Duke Foundation
Mr. Robinson succeeds Linda A. Daniel in the role as president of the Duke Foundation. "After nearly seven great years as president, I am very pleased to transition leadership of the Duke Foundation to Rayce Robinson," Ms. Daniel said. "As a long-term community funder and catalyst for local non-profits, the Foundation has always been based on the strong philanthropic, community-minded values of the Duke/Robinson family…and Rayce is uniquely qualified to carry that wonderful commitment and legacy forward."
Beyond his role leading the Foundation, Mr. Robinson has considerable experience facilitating community collaborations in the central Ohio area, most recently in Plain City. Mr. Robinson has extensive sales experience focused on the healthcare field as an enterprise specialist for integrated diagnostic devices at Midmark Corporation. A graduate of Bradley University, he also holds a Masters of Business Administration and Management from the University of Dayton.
Ms. Daniel remains an active member of the board, focused on her new role as past president and community liaison. William J. McGraw, III, Esq. continues to serve as the Foundation's vice president, while Deborah Miller has accepted the role of secretary/treasurer. Joining Ms. Daniel as community liaison is Wade Westfall. The trustees are honored that Patricia Duke Robinson continues to serve as president emeritus.
The Duke Foundation's Board of Trustees encourages nonprofit organizations serving the Miami County area to apply for grants. Grantmaking interests focus on programs benefiting children, young adults, and families in the areas of social services, education, health, and the arts. Applications will now be accepted on a rolling basis. More information on applying for grants can be found at PaulGDukeFoundation.org.
---
About The Paul G. Duke Foundation
The Paul G. Duke Foundation, a Supporting Foundation of The Columbus Foundation, was established in 1983 by Paul G. Duke, a Miami County businessman and philanthropist, and has paid more than $27 million in grants to strengthen and improve the community. Mr. Duke's philanthropic activities have been continued by his daughter, Patricia Duke Robinson, an active community volunteer and advocate for the residents of Miami County.
Mrs. Robinson has entrusted stewardship of the foundation to dedicated leaders from the Miami County community, who are committed to building on the Foundation's decades of strategic grantmaking and investment in the region.