Community Development for All People and Rev. John Edgar, Executive Director
For 15 years, Community Development for All People (CD4AP) has been working to strengthen the South Side and create a sense of community among a diverse racial and socio-economic area. Formed in 2003, CD4AP has a vision—"for a whole, healthy, and engaged community where All People are empowered to pursue their hopes, dreams, and aspirations; where lives are transformed by faith and trust, and personal fulfillment is experienced through the abundance of God's love and grace."
This vision is brought to life through CD4AP's collaborative work as a "community convener," as Reverend John Edgar calls it, bringing together individuals and families who live and work on the South Side. John, Pastor of The United Methodist Church for All People and Executive Director for CD4AP, is a passionate leader whose enthusiasm for the neighborhood is palpable.
"We want the South Side to be an opportunity-rich community where people can thrive," he said. "We want the social determinants of health—housing, education, employment, neighborhood safety, and access to things that directly relate to healthy living—like food and access to medical care—to help build up people."
With that in mind, CD4AP's programs and services embrace the needs of those in the community, finding solutions to help them get and stay healthier, and helping them save money by providing items through programs like The Free Store, All People's Fresh Market, and Bikes for All People.
"We are creating a diverse, sustainable, mixed-income community that is defined by opportunity."

— REVEREND JOHN EDGAR, Executive Director, Community Development for All People
"The Free Store has been open for 19 years," John said. "By providing clothing and household items free of charge, it helps people stretch their limited financial resources. It also give us an opportunity to build relationships with community members—to hear about their hopes and dreams—and to connect them with our other services such as job training and affordable housing."
The new Fresh Market opened on Parsons Avenue earlier this year, replacing a smaller version across the street. Today, John said it provides 100,000 pounds of free fresh produce each month. It offers those in the neighborhood the opportunity to enjoy healthy foods, which can be tough for some.
"It's expensive to eat healthy," John said. "The Fresh Market is a tremendous symbol of how community partners can come together to create positive change, in this case making healthy eating and living accessible to all people."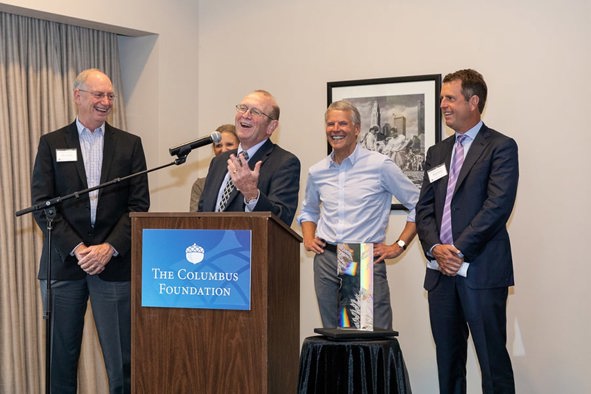 Community Development for All People and Rev. John Edgar, Executive Director received The Columbus Foundation Award at The Columbus Foundation's 2018 Celebration of Philanthropy.
John said many of CD4AP's programs directly address social determinants of health, with a goal of improving the lives of those they serve through a multifaceted approach. One place they are making an unmistakable difference is housing.
CD4AP started offering affordable housing in 2005, when the organization fixed up a vacant duplex. Thirteen years later, the renovations CD4AP has completed, and the housing in construction, has positively impacted hundreds of families, John said.
"We've been able to do a lot because of the partnerships we've had," John said. Those partnerships include working closely with Nationwide Children's Hospital, as well as the city and county.
"In the very early days, it was about getting rid of the blight," he said, explaining CD4AP would take abandoned properties, fix them up, and sell them. "It was a good place to start."
John says as they've moved forward, it's always been critical to preserve the makeup of the dynamic neighborhood. "This has always been a mixed-income community and we want to make sure it stays that way. What we don't want to do is displace the very people we're trying to help. That's the key in our perspective. That is why we are currently developing $20 million of rental housing that we will lease at below market rates to persons of limited financial means."
Through these efforts and more, CD4AP remains innovative and forward thinking, bringing new approaches, collaborations, expanded services, and increased opportunities to those who need it most. With the organization's breadth, depth, and strong leadership, The Columbus Foundation is proud to present CD4AP and Rev. John Edgar with The Columbus Foundation Award, and a $25,000 grant.