Zora's House offers solidarity and support for women of color
When LC Johnson moved to Columbus in 2015, she struggled to find community. She dreamed of a place where women of color could show up as their authentic selves to nurture their leadership, creativity, scholarship, entrepreneurship, activism, and service. Now, as Founder and CEO of Zora's House, Johnson is providing other women of color a place to realize their own dreams. Zora's House is a coworking space and leadership incubator designed by and with women and gender-expansive people of color.
Named after author and activist Zora Neale Hurston, Zora's House offers its members an array of programs including creative workshops, professional and leadership development, business planning courses, financial literacy and wealthbuilding education, and more.
To its members, Zora's House is more than a physical space contained within four walls. As Johnson describes it, Zora's House is "a culture, a feeling, a community"—a place where women of color have permission to be themselves and where they can connect, grow, and thrive.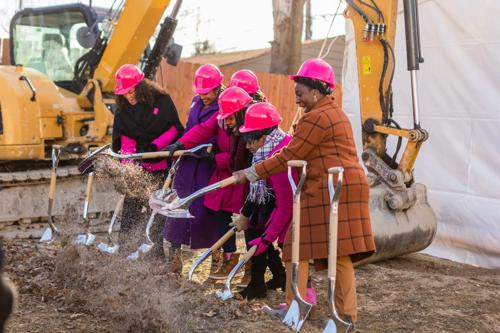 Pictured: Groundbreaking ceremony for the new Zora's House in Weinland Park on February 3, 2023.
"It is extremely rare that Black women or other women of color get to enter a public space that was created explicitly for them," explained Johnson. "There's something about being in a space that's for you that allows you to think more boldly, dream more boldly, and be more authentic."
Women of color are the fastest growing population in Franklin County—a fact that Johnson says underscores the importance of places like Zora's House, not just for individuals but also for the community. While people often associate the term "brain drain" with educated or skilled individuals leaving a community, Johnson says there's another form of brain drain—when individuals lack access to support or opportunities.
"Brain drain also happens when people's genius is left behind, when their ambitions are left behind," said Johnson. "Langston Hughes famously asked, 'What happens to a dream deferred?' It's not just a question for the dreamer; it's a question for the community. That's part of why Zora's House exists."
Since the organization's founding in 2018, Zora's House has grown quickly—so much so that it has outgrown its 2,000-square-foot home on Summit Street in Weinland Park. Recognizing the potential to expand programming to serve more women of color in a larger space, Johnson and other leaders at Zora's House launched a capital campaign to construct a new building: Zora's House 2.0. In February, more than 120 community members gathered to celebrate the groundbreaking of the organization's future home on North Fourth Street and East Eighth Avenue in Weinland Park.
"There's something about being in a space that's for you that allows you to think more boldly, dream more boldly, and be more authentic."

LC JOHNSON
The new Zora's House will be a 10,000-square-foot facility featuring offices, coworking space, and a cooperative café. The building will also offer a residential incubator that can accommodate weeklong stays for out-of-town visitors. Once the Zora's House 2.0 project is complete, it will be one of the largest real estate developments built and owned by a Black woman-founded organization in the Midwest. The new building, which was designed in consultation with women of color and is being built by a woman-led construction company, is expected to open in the Spring of 2024.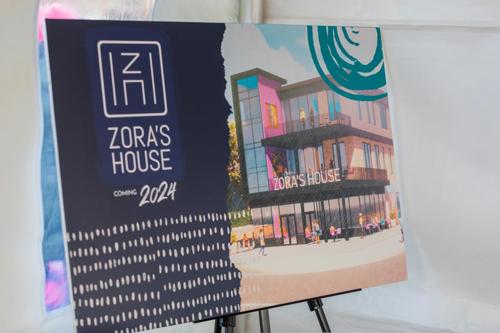 Pictured: A look at the future Zora's House in Weinland Park opening in 2024.
Thanks to the incredible generosity of donors, The Columbus Foundation awarded a $100,000 grant to support the construction of Zora's House 2.0, and in conjunction with Campus Partners was able to provide an additional $150,000 through a co-funded Weinland Park revitalization investment pool. More recently, The Columbus Foundation awarded the organization a grant to support the exploration of a donor engagement strategy that centers racial equity, social justice, education, and transformative systems change.
"The Columbus Foundation has been such an incredible support for Zora's House. The Columbus Foundation provided the very first gift that we received related to this capital project," said Johnson. "It's important to ensure folks know that our local community foundation really supports what we're doing and is investing in our work."
In 2020, Johnson was also part of a cohort of nonprofit leaders selected to participate in a training on human-centered design facilitated by The Columbus Foundation in partnership with Stanford University's d.school. The weeklong design sprint provided tools and handson learning to help promote the value and importance of incorporating the perspectives and insights of those who experience challenges throughout the process of solving them. This opportunity offered important insight that has helped Johnson guide her work.
"One of my friends and a fellow community leader, Kelley Griesmer of The Women's Fund of Central Ohio, was also part of my cohort," Johnson explained. "A few months later, JPMorgan Chase announced its AdvancingCities competition and Kelley and I asked ourselves, 'How might we utilize design thinking to create more equity in our city?' The conversation led to the Women of Color Equity Design Institute, which was later supported by JPMorgan Chase with an investment of $1.55 million."
With construction for Zora's House 2.0 now underway, Johnson looks forward to continuing to make space for women of color by changing the way the community thinks about equity and leadership.
"We have a responsibility to support women of color as whole, entire people and to let them know: You belong here," said Johnson. "We change spaces by being in spaces."