On a hot June day earlier this year, Duane Casares, MSW, LISW-S, watched as 10-year-old Grady stepped up to the microphone to read the poem "The Rose That Grew From Concrete" by Tupac Shakur. To a spirited crowd that included local families, community members, and elected officials, Grady recited:
Did you hear about the rose that grew from a crack in the concrete?
Proving nature's law is wrong it learned to walk without having feet.
Funny, it seems, but by keeping its dreams, it learned to breathe fresh air.
Long live the rose that grew from concrete when no one else even cared.
Casares, a social worker by trade and longtime CEO of Directions for Youth & Families (DFYF), had been waiting for this day for years. At last, he was watching his own rose grow from the concrete; construction was finally beginning on the new Crittenton Community Center, a 20,000-plus square foot social services center in the Eastland area operated by DFYF. This milestone was cause for celebration.
DFYF has played a vital role in the community for more than a century, offering mental, emotional, and behavioral health services to thousands of youth and their families each year. Through counseling, education, and support programs, DFYF is building healthy individuals, strong families, and safe communities.
For years, DFYF has operated two youth centers: the Ohio Avenue Youth Center and the Crittenton Center on Kimberly Parkway. These youth centers provide young people with safe, positive environments to engage in creative thinking, try new experiences, develop tools for self-expression, and give back to their community through service projects and the arts. All of the youth centers' activities are provided free of charge.
However, at less than 4,000 square feet, the former Crittenton Center struggled to keep up with demand. Within the first week that DFYF opened the Crittenton Center in 2015, the afterschool program filled to capacity. At the same time, Casares recognized that the neighborhood surrounding the Crittenton Center lacked many community resources often found in other neighborhoods—there was no library, no recreation center, and no Boys & Girls Club. It quickly became clear that, in order to better serve the neighborhood, DFYF needed not a bigger youth center, but instead a community center.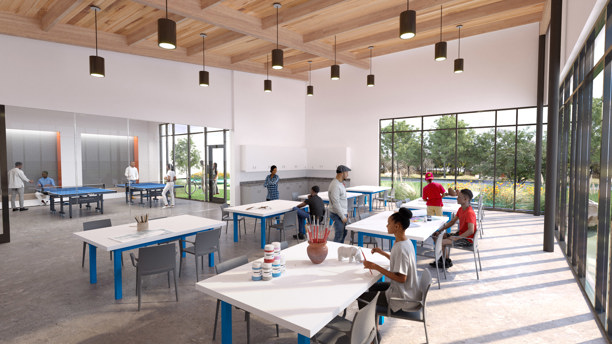 Renderings of the new Art Room at the Crittenton Community Center, courtesy of DesignGroup.
"We realized that building a bigger space only for afterschool and summer programs was putting a band-aid on a much bigger problem," explained Casares.
In partnership with 23 nonprofit organizations, the Crittenton Community Center will offer services that address food insecurity, housing stability, workforce development, education, legal aid, mental health, support for seniors, youth programming, and more. This one-stop shop will help DFYF expand its reach, providing critical social services to even more youth and families.
According to Casares, the physical space of the new Center was developed with great intentionality. The building, designed by the local architectural firm DesignGroup, will include lots of glass, large windows, and soft edges—a deliberate decision intended to convey an atmosphere that is both welcoming and open. The lobby in the Crittenton Community Center will also prominently feature a Social Justice Tree, an artistic installation that, according to DFYF's website, "symbolizes the continued growth of a community."
However, building the Crittenton Community Center has not been without challenges. Construction was initially scheduled to begin in October 2021 but was repeatedly delayed due in part to supply chain issues and rising costs for material and labor. The cost to demolish the old Crittenton Center and build the new Center grew by more than $3 million over initial estimates.
As the cost grew substantially, DFYF faced tough choices in order to keep the project moving forward. Casares and his team were prepared to make the difficult decision to remove the gymnasium from the building plans.
"This community has waited long enough. We had to move forward," said Casares. "If anything, the pandemic emphasized how much the community needs a social services center like the Crittenton Community Center."
The Robert F. Wolfe and Edgar T. Wolfe Foundation, a Supporting Foundation of The Columbus Foundation, stepped in with an incredible $2 million gift. Thanks to the generosity of the Wolfe Foundation, the Crittenton Community Center will have a gymnasium when its doors open, providing a space for recreation and connection.
"The Wolfe Foundation is pleased to support Directions for Youth & Families in the construction of their new Crittenton Community Center because of their long history of providing excellent assistance to families and helping them to connect to critical support services. This Center will offer much-needed resources for families living in challenging circumstances, including access to a brand new gymnasium," said Katie Wolfe Lloyd, speaking on behalf of the Wolfe Foundation.
"This is going to change the lives of the youth and families we serve for generations to come."

DUANE CASARES, MSW, LISW-S, CEO, DIRECTIONS FOR YOUTH & FAMILIES
The Columbus Foundation also supported DFYF's capital campaign, providing grants totaling $110,000 toward the construction of the Crittenton Community Center, which is expected to be completed by June 2023. This support was made possible thanks to the generosity of the Agnes Marie Trimmer Fund, the Alfred L. Willson Charitable Fund, the J. Ray and Lillian W. Waller Fund, and the Richard C. and Nanciann Kaufman Ninde Fund.
Casares, who expressed deep gratitude to the Wolfe Foundation and The Columbus Foundation for their support, said that he is looking forward to welcoming the community once the doors to the new Center open.
"We have a great, giving community. The kids are so excited," said Casares. "This is going to change the lives of the youth and families we serve for generations to come."