It was a chance encounter at the Atlanta Airport that brought Stephanie and Joel Shaw together.
Stephanie, who was traveling for work, first noticed Joel when he helped load her luggage onto an airport shuttle—and she instantly felt butterflies in her stomach. The two would soon run into each other again in
the airport terminal and, after enjoying drinks and conversation together, Stephanie told a friend, "That's the kind of guy I want to marry."
For Joel, the feeling was mutual: "I told my buddy that I was going to marry her." Now married for 22 years, Stephanie and Joel have proudly called Columbus home for more than a decade. The couple moved to the region with their two sons, Koel and Gabe, when Stephanie's job relocated to central Ohio. Today, Stephanie serves as the Vice President of Enterprise Technology for The Wendy's Company, where she has been a strong advocate for diversity, inclusion, and community engagement. In both 2021 and 2022, Stephanie was recognized as one of the National Diversity Council's Top 100 Women in Technology.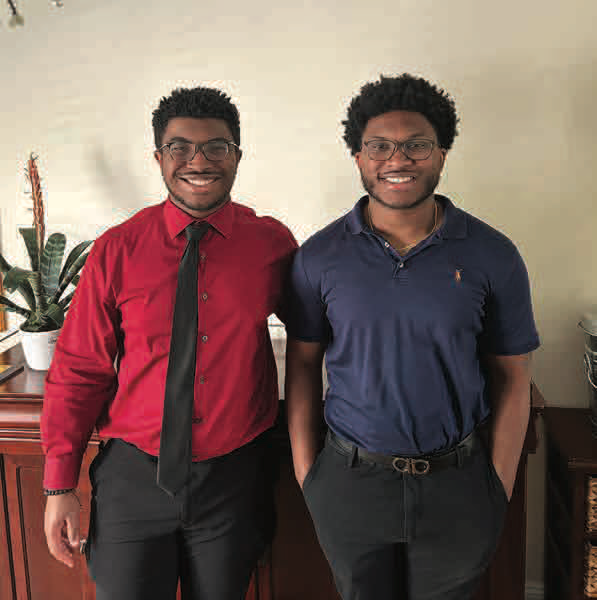 Stephanie and Joel Shaw's sons, Gabe and Koel. Photo courtesy of the Shaw family.
Joel, a self-described foodie, works as a chef, where he enjoys cooking a wide range of cuisines, although Italian is his favorite. For Joel, cooking is an expression of love, gratitude, and respect. "We show our love by feeding people," Joel explains. "That's how we as a family do it."
Giving back to the community and supporting their neighbors is also how the Shaw family expresses their love and gratitude. In particular, the couple is passionate about supporting organizations that are dedicated to addressing food insecurity, closing the racial wealth gap, and providing opportunities to lift up underserved communities.
Stephanie and Joel, who were born in West Virginia and New Jersey, respectively, both credit their parents for instilling in them the importance of helping others.
"The way we were both raised, it was always with a heart of gratitude and sharing," said Stephanie. "We were taught to help others, be kind, and create opportunities for others."
It's a lesson the couple has also passed down to their own children. Koel, their oldest son, was awarded The Morrill Scholarship at The Ohio State University in recognition of his academic achievement, leadership, and service to the community. Similarly, the couple's youngest son, Gabe, a student at Dublin Scioto High School, recently received the Catalyst for Positive Change Award from Syntero, a local nonprofit. The award recognizes high school students in central Ohio who have demonstrated outstanding community service.
Both Stephanie and Joel remain active in the community. Stephanie currently serves on the Board of Trustees for Alvis, a nonprofit human services agency that provides programs to individuals and families affected by addiction and the criminal legal system. Through her service with Alvis, Stephanie was named the Wendy's 2018 Community Ambassador of the Year. She is also a board member of the Columbus Urban League, whose mission is to advance racial equity and social justice. Meanwhile, Joel has tapped into his passion for food to help neighbors experiencing hunger by regularly providing food to a local food pantry.
Wanting to be more thoughtful, strategic, and impactful with their charitable giving, the Shaws met with
their financial advisor, who connected the couple to The Columbus Foundation. In 2021, Stephanie and Joel established the Shaw Family Fund, a Donor Advised Fund at The Columbus Foundation, to support their charitable giving goals. The Shaws look forward to using their fund to continue supporting the causes and organizations closest to their hearts.
"We all find our way by helping each other and helping people in the community," said Joel.