As you enter Freedom a la Cart Café + Bakery in downtown Columbus, the first thing you may notice is the aromatic scent of freshly brewed coffee. Or perhaps you'll observe the enticing display of pastries or the menu of made-from-scratch sandwiches and salads. But beneath this local dining experience is a meaningful, mission-focused cause: supporting survivors of sex trafficking.
Freedom a la Cart's mission is to empower survivors of sex trafficking and exploitation to build lives of freedom and self-sufficiency. By fostering a community of trust, compassion, and collaboration, the organization provides a safe place where survivors can heal, learn, and grow as they prepare to reintegrate into the community and workforce.
Paula Haines, CEO of Freedom a la Cart, which runs a catering business in addition to the café and bakery, first got involved in the organization in 2013 after attending an informational class on the effects of sex trafficking.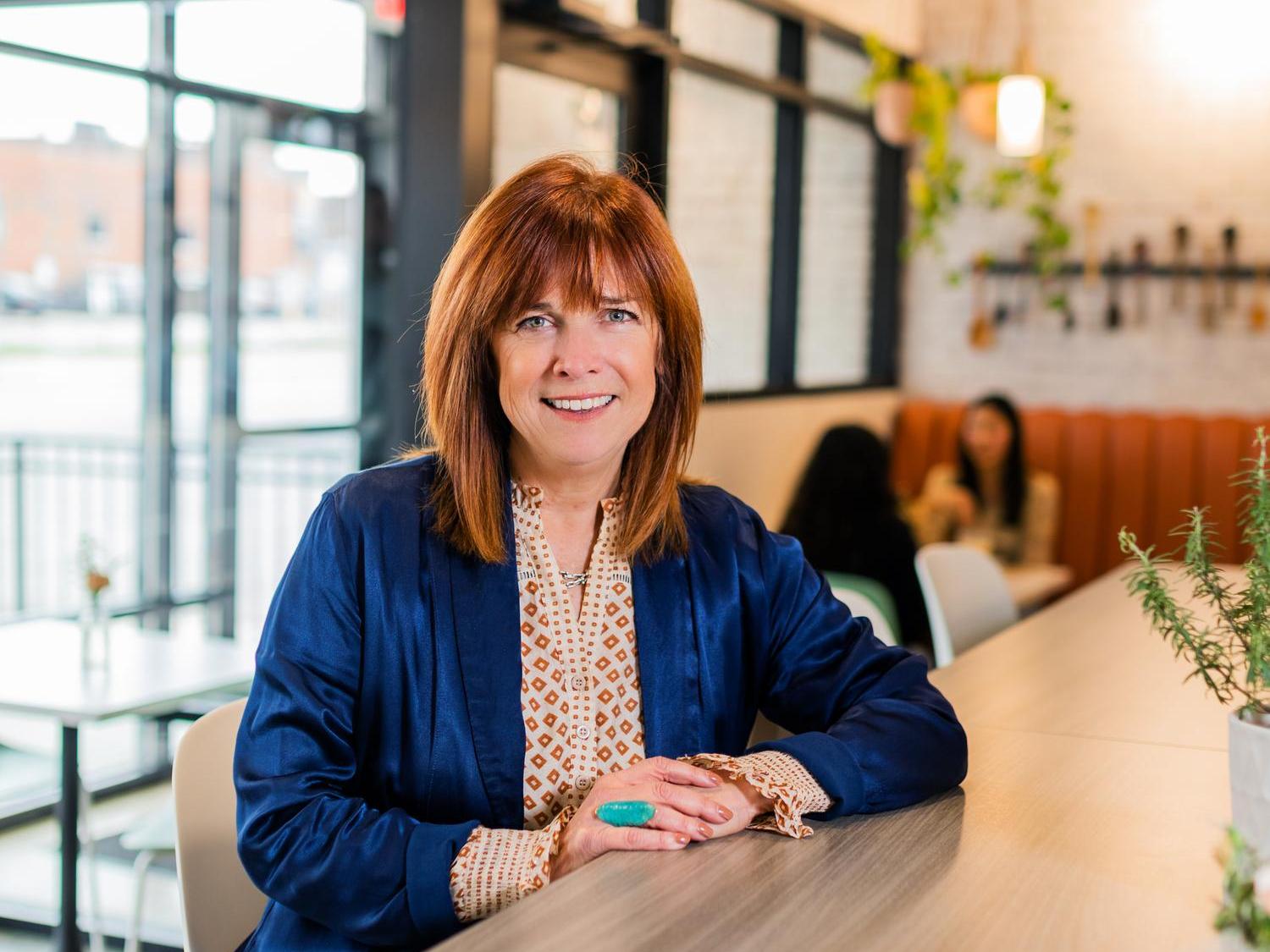 Paula Haines, CEO of Freedom a la Cart.
The experience deeply resonated with Haines, inspiring her to get involved—first as a volunteer, then as a fundraiser, board member, and eventually, as CEO.
"I really felt compelled because this happens to women at their most vulnerable state. I connected with them immediately," explained Haines. "I wanted survivors to know that they're worthy. I wanted to help them see life in a different way and that they could have a fresh start."
According to the Polaris Project, which operates the National Human Trafficking Hotline, Ohio ranks fourth in the nation in human trafficking cases. In 2022, Freedom a la Cart provided supportive services to 656 survivors in central Ohio. Nearly all of the survivors served by Freedom a la Cart are women, and more than a quarter were trafficked before the age of 15.
Freedom a la Cart's roots reach back more than a decade, in what first began as a partnership between Doma International and Franklin County Municipal Court's Changing Actions to Change Habits (CATCH) Court. A specialized docket, CATCH Court is a two-year, treatment-oriented program for individuals in the criminal legal system who are survivors of human trafficking and have complex trauma and substance use disorders. Rather than viewing these survivors as criminals, CATCH Court exists to break the cycle of abuse by providing survivors with resources and a network of support. 
Initially, the partnership began with Doma International providing CATCH Court participants with weekly meals before court. Over time, as the organization grew, Doma International established a comprehensive community-based support program to foster healing and restoration for CATCH Court participants. In 2011, Doma International purchased a food cart and launched Freedom a la Cart—a social enterprise that provides survivors with opportunities for employment and self-sufficiency. In 2019, the organization officially changed its name to Freedom a la Cart.
Among Freedom a la Cart's programs is its Workforce Development Program, where survivors are empowered to gain personal and financial independence through paid employment while learning professional and life skills to help them grow in their careers. The holistic two-year program offers one-on-one counseling, job shadowing and internship opportunities, employment coaching, personal goal setting, and other supports. Additionally, through Freedom a la Cart's Butterfly Program, survivors receive long-term peer-based support and mentorship as they work toward independence and stability.
In 2022, 95 percent of all program participants reported an increase in self-confidence and self-sufficiency. As one program participant shared, "It has given me examples of what life can be like outside of human trafficking. The program has also given me so many amazing women to look to for advice, to look up to, and to go forward with [in] my healing journey."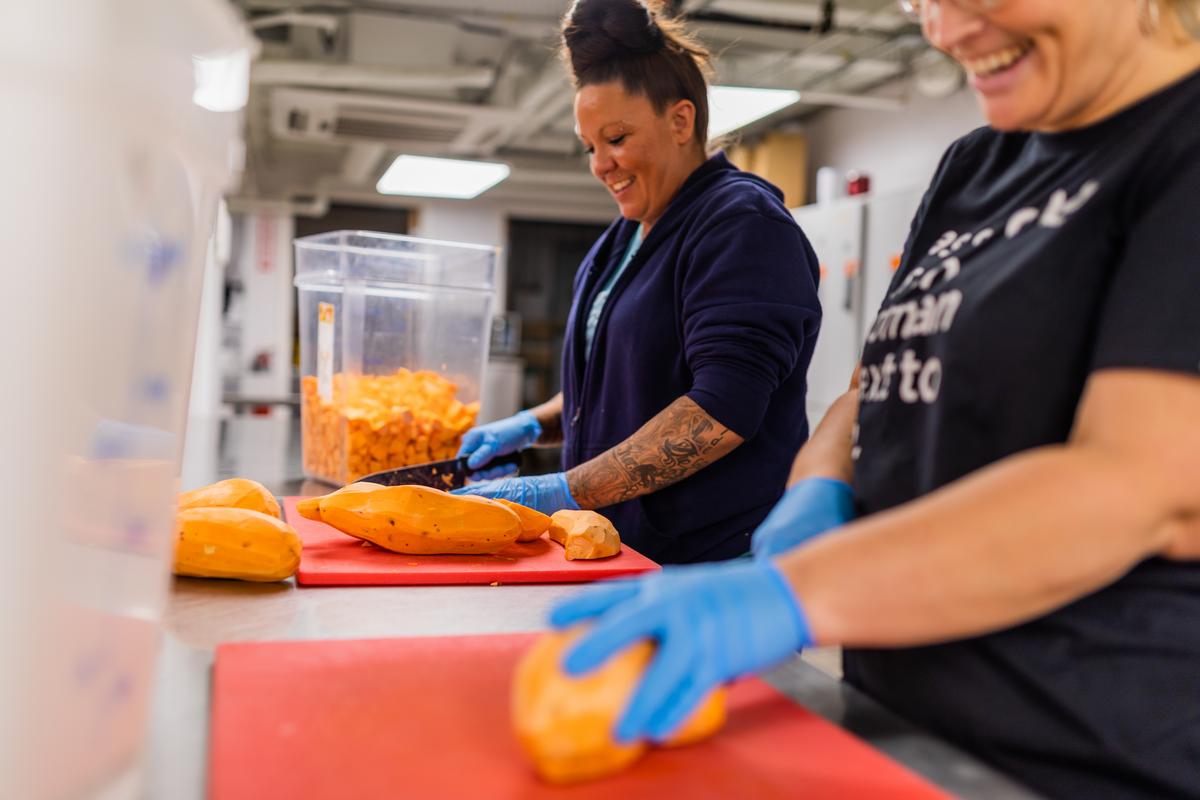 Staff prepares food at Freedom a la Cart Café + Bakery.
The Columbus Foundation and its donors have awarded numerous grants to Freedom a la Cart over the years. One such grant from The Columbus Foundation included early funding to support construction and equipment costs for a catering kitchen and café in downtown Columbus—what would eventually become Freedom a la Cart Café + Bakery. In 2022, The Columbus Foundation awarded grants through its unrestricted grantmaking to Freedom a la Cart to fund a continuum of support services to survivors of sex trafficking.
"Freedom a la Cart is leading the way to empower survivors of sex trafficking in central Ohio, providing programming and services that offer survivors compassion, dignity, and hope," said Emily Savors, Senior Director of Grantmaking at The Columbus Foundation. "The Columbus Foundation is honored to support this life-changing work in our community."
Looking toward the future, Haines said the organization is exploring more ways to grow its outreach and impact. Freedom a la Cart is currently undergoing research to look at opening a second café and bakery, which would enable the organization to expand its Workforce Development Program. Additionally, Freedom a la Cart has entered a partnership with a local landlord to provide safe, supportive housing to survivors.
Haines also expressed her gratitude toward the community for its ongoing support of Freedom a la Cart.
"It really means a lot to us that the community believes in our mission and supports the work that we're doing," said Haines. "It's really empowering as an organization, but also for the women that we serve."