The Maroon Arts Group (MAG) was created "to build and provide a platform for community, art, and learning, centered in the cultivation, celebration, and promotion of Black cultural production and art."
MAG is a collective fueled by determination, collaboration, and the belief that art is a tool to connect us. Today, it features original programming that amplifies the voices of Black creatives in Columbus, showcases many genres of art, and is supported annually through The Columbus Foundation's arts grantmaking. It was the actions of one local creative, Sheri Neale, that sparked the organization's founding.
"I started it based on a feeling that I had about not doing enough as it related to the things that were happening in the Black community," explained Neale. "I know what art does for me, so I wanted to translate that to my community in some way. There was a piece of work that I felt very strongly about; it was actually a play. I tried to give it to some places here that weren't open to it."
Believing the play, a theatrical collection directed by Troy Burton and playing in Baltimore, would be a catalyst for thought-provoking conversations in our community, Neale reached out to some local artist friends to see if they could raise enough money to bring the show to Columbus. Through open mics, reggae nights, and other fundraising efforts, they did—opening in 2015 to a sell-out audience.
"Maroon Arts Group has become one of the most consistent arts organizations to focus on strengthening the community through culturally relevant arts and wellness programming."

DR. MARK LOMAX II, DIRECTOR, ARTS & GENERATIONAL GRANTMAKING AT THE COLUMBUS FOUNDATION
During the process, Neale and others who had joined the effort, including local creative Marshall Shorts, realized the void that exists for ways to showcase Black artists in our community. "After the play, the community said, 'what's next?'" Neale said. She and the other creatives continued to do the things that helped fund the initial project, embracing opportunities to allow creatives to share an open expression space. As they looked for new projects and ideas, she formalized MAG, becoming a 501(c)(3) in 2016. Shorts had an idea to do something with shipping containers. "We were talking about space and what it would look like to do a small space, and that's how the shipping container idea came to life," Neale said.
It was low cost and could be seasonal, something MAG felt it could manage at the time. Working with the City of Columbus, MAG secured a vacant lot at the corner of Mt. Vernon Avenue and 17th Street, in the heart of the KingLincoln Bronzeville neighborhood where many artists live and work. The Maroon Arts Group MPACC (Movement Pursuing Art, Commerce, and Community) Box Park opened in 2018. At just over 24,000 square feet, it features a performance stage attached to a shipping container and an art gallery space inside a repurposed shipping container.
"I think it's a really welcoming space that has 'a feeling' that we get and that most people talk about it—even though it has no walls," Neale said. "It was created with love and by community. The community had input. We definitely didn't do anything without bringing the community there first. They blessed the land with nothing on it. It organically grew into what it is now."
The park also offers creative wellness with yoga and fitness, a green space for gardening, and a growers' market.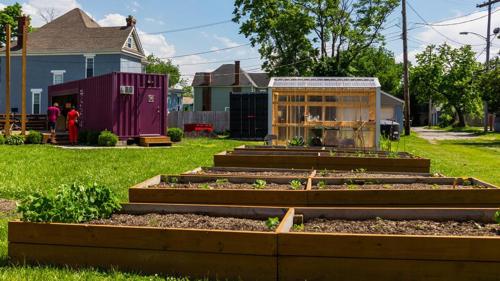 Green space at Maroon Arts Group's MPACC Box Park
"I could not have imagined what that space has done. We are there to hone community artists and to remove barriers for engaging with art," Neale said.
In 2021, MAG took on its most significant endeavor yet, entering into a purchase agreement to secure the York-Masons Building on Mt. Vernon Avenue. The building houses the historic Pythian Theatre and has been a staple in the Black community for more than 95 years.
When the building was listed for sale in 2020, the group, recognizing the history of the building and unsure what a potential buyer would use it for, collectively thought, "This can't happen. This can't leave the community."
"This has been a cultural space for this community since 1926," said Shorts. "It's always been Blackowned and was built by Black masons. Since we've been here, it has been a part of the King Arts Complex, which again is a history of art and culture. At the time, people understood it to be the King Arts Complex, as we did. For us, it was like, man, we can't not try to at least see what it would look like for us to collectively come together in the same spirit we did to bring the play."
While no one had the personal assets to purchase the building, Shorts said there were serious conversations to figure out how MAG could play a role in keeping it a Black cultural arts space for the community.
"When you have people who are interested in it remaining a community asset, then you work it out. That's what we were able to do," Neale said.
In 2021, The Columbus Foundation awarded two grants totaling $80,000 to MAG to help support the restoration and repair of the theatre.
"Maroon Arts Group's presence in the KingLincoln district has revitalized the Mt. Vernon community by bringing arts to the people. I am excited by its growth and am looking forward to seeing how its programming connects communities, from traditional theatre settings to the innovative work done at the Box Park," said Mark Lomax II, DMA, Director, Arts & Generational Grantmaking at The Columbus Foundation. 
"The help from The Columbus Foundation allowed us to do boiler work and other things that we needed to do," Neale said. "We have a lot of work to do. The Columbus Foundation was extremely generous and pivotal even through the process. To be able to have conversations and access to have those conversations changed the game for what we were able to do."
The new building will greatly increase the programs and impact MAG can offer to the community.
"We get to take what we do and expand that into a larger space," Shorts said. "Maroon Arts Group has always been an organic, collective experience. We are able to take the momentum that we have created with little resources and be able to expand that."
Once repairs and renovations are complete, the group plans to rent the space out for community events and productions. They hope it will become a home for social justice, culture production, artist residencies, and more.
"We're still thinking about all of the possibilities that can happen with a space with 27,000 square feet," Shorts said. "We are re-imagining what an art space can look like in a community that has such rich history and building on the foundation that was already there."