COLUMBUS, OH (February 15, 2018) —Today, The Columbus Foundation celebrated the accomplishments of individual business and nonprofit leaders who were recognized for their outstanding contributions to our community over the past year. They were honored at the annual National Number Ones event held at the Foundation.
"We are proud to honor these champions who represent our smart and open city with their extraordinary achievements," said Douglas F. Kridler, President and CEO of The Columbus Foundation. "We applaud their accomplishments—from education and sports to community service and the arts—and look forward to continuing to shape Columbus' bright future together."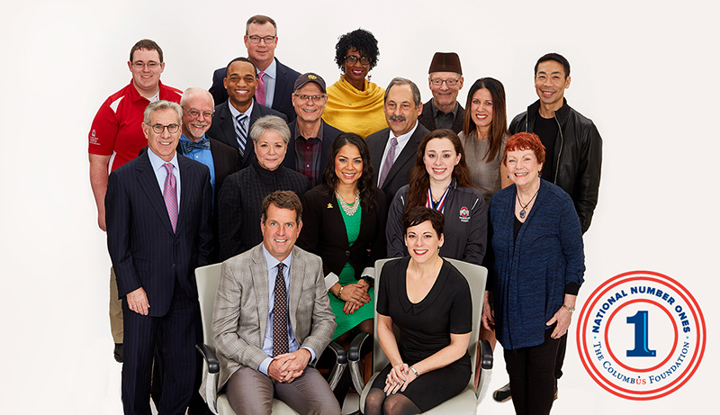 Pictured, seated (l-r): Columbus Foundation Governing Committee Chairman Matt Walter, Peggy Kriha Dye. First row (l-r): George Barrett, Rita Soronen, Robbie Banks, Elizabeth Davidson, Jo Dee Davis; Second Row (l-r): Cleve Ricksecker, Dominique Alexander, Eric Gnezda, Michael Fiorile, Stephanie Lorenz; Third Row (l-r):Brandon Bishop, Kenny McDonald, Tiffany Tynes Curry, Malcolm Cochran, Edwaard Liang.
While we live in a remarkable city, it is not without its tragedies. A moment of silence was held during the event to honor Anthony Morelli and Eric Joering, the two Westerville Police officers who were killed on Saturday responding to a domestic violence call.

"These heroes will not be forgotten, and neither will their selfless bravery protecting some of the most vulnerable in our community," Kridler said.
A $50,000 grant will be made on behalf of today's attendees to LSS CHOICES for Victims of Domestic Violence for the Lethality Assessment Program (LAP). The Maryland Network Against Domestic Violence designed the LAP to predict and prevent intimate partner homicide by translating clinical research on lethality predictors into practical tools that help first responders respond more effectively to dangerous and potentially lethal incidents of domestic violence. Columbus and surrounding communities implemented LAP in 2015 and LSS CHOICES for Victims of Domestic Violence became a critical partner.
The National Number Ones include:
Joseph Nardone / John Glenn Columbus International Airport
Most Improved Airport in North America
Airport Council International
Peggy Kriha Dye, General and Artistic Director, Opera Columbus
30 Professionals of the Year: Movers and Shapers
Musical America
Kenny McDonald / Columbus2020
"Best in Class" Regional Economic Development Group
Development Counsellors International
Most Valuable Economic Development Brand
Atlas Advertising
Tiffany Tynes Curry, Weinland Park Elementary School
Milken Educator Award
Milken Family Foundation
Elizabeth Davidson / The Ohio State University synchronized swimming team
National champions
U.S. Collegiate Championships
Malcolm Cochran, professor emeritus, The Ohio State University
Outstanding Educator Award
International Sculpture Center
Rhonda Peeples, former principal, Weinland Park Elementary School
National Distinguished Principal
National Association of Elementary School Principals
Rita Soronen / Wendy's Wonderful Kids
Premier Foster Care Investment
Blue Meridian Partners
Brandon Bishop & Dr. Shawn Midlam-Mohler / The Ohio State University Center for Automotive Research
Winner, national EcoCar3 competition
U.S. Department of Energy
George Barrett, Chairman, Cardinal Health Inc.
Exceptional Businesses and Leaders
Business Committee for the Arts Awards
Americans for the Arts
Brian Ciccone, Dominique Alexander & Brett Malamud / The Ohio Machine
2017 National Champions
Major League Lacrosse
Jo Dee Davis, Healing Broken Circles
KIND People Foundation Award and 2017 Model of Leadership and Service Award
The KIND Foundation and CF Learning
Robbie Banks / Experience Columbus
Largest Certified Tourism Ambassador™ program
Certified Tourism Ambassador Network
Michael Fiorile, Dispatch Printing Company and Dispatch Broadcast Group
Honoree, Giants of Broadcasting and Electronic Arts
Library of American Broadcasting
Eric Gnezda, producer, Songs at the Center
Public Television Music Entertainment Series, Ohio product
American Public Television
Ken Schnacke / Huntington Ball Park
#1 Ballpark, 2017 Best of the Ballparks
Ballpark Digest
Cleve Ricksecker / Capital Crossroads Special Improvement District
Best Policy Decision in the U.S. – Columbus Downtown CPass program
StreetsBlog
Stephanie Lorenz / New Albany Classic Invitational Grand Prix and Family Day, in support of The Center for Family Safety and Healing
#1 Specialty Equestrian Event, 4th consecutive year
North American Riders Group
Edwaard Liang, Artistic Director, BalletMet
Top Ballet Performance of the Year, "Romeo and Juliet"
Pointe Magazine
---
About The Columbus Foundation
The Columbus Foundation is the trusted philanthropic advisor® to more than 2,500 individuals, families, and businesses that have created unique funds and planned gifts to make a difference in the lives of others through the most effective philanthropy possible. More than 70 years strong, The Columbus Foundation is the eighth largest community foundation in the United States. The Foundation's new Giving Store is a one-stop shop for easy and effective philanthropy. Learn more at columbusfoundation.org.